In the summer of 2008, a multi-national team of Russian, European and American researchers found a small bone at a remote cave site in Siberia. At the time of discovery researchers had been working at the Denisova cave, located in the Altai Mountains in southern Siberia for several years already. Moreover, the cave was open to visitors as early as 2000, when it was listed on the program of The Second International Conference on Bioinformatics of Genome Regulation and Structure, held in Novosibirsk.
Initially, the discovery of a bone did not raise eyebrows, as the presence of Neanderthal people in the area between 48,000 and 30,000 years ago was a well-established fact. Interesting thus far, but nothing out of the ordinary.
As it turns out the small bone, identified as one of the bones in one's pinky, held some surprises. Scientists at the Max Planck Institute in Leipzig extracted DNA – specifically mitochondrial DNA — and concluded that this type of DNA represented "a hitherto unknown type of hominin mtDNA that shares a common ancestor with anatomically modern human and Neanderthal mtDNAs about 1.0 million years ago."  [For those scratching their head over the term "hominin," this refers to extinct members of the human lineage.] So we are looking at one bone of a previously unknown hominin? Possibly. Or maybe not. 
The notion that we had several hominins living side by side, modern humans, Neanderthalers, and possibly this third species, should not come as a surprise. This happened quite frequently in our past; our existence today as the sole representatives of the human lineage is seen as an exception rather than the rule. What would be remarkable is that we have evidence of a human ancestor or close relative whom we did not know existed.
The latter realization has created a lot of buzz among those interested in human evolution. As is always the case with this type of endeavor, we need to be cautious and outline what we know, what the limits of our understanding are and where we shift from scientifically supportable reconstructions to pure speculation. A number of topics need further clarification here.
First, where does the owner of the bone fit in on the family tree, especially compared to us and to Neanderthals?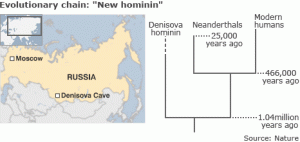 Location of Denisova Cave and presumed place
on the family tree of the Denisova Cave specimen.
Researchers compared the Denisova mitochondrial DNA to complete mitochondrial sequences from 54 modern humans as well as a human who lived in Siberia about 30,000 years ago, six Neanderthals from more than 40,000 years ago, a modern pygmy chimpanzee and a modern common chimp. The results indicated that there are about 400 differences between us and the DNA in the pinky. This is twice as many differences as exist between modern human and Neanderthal DNA. This has led researchers to suggest that our last common ancestor lived about 1 million years ago, about twice as long ago as the common ancestor to us and Neanderthalers.
A second question that begs an answer is:  "what creature does this DNA belong to?" Various scenarios have been suggested here. It is possible, that we are dealing with a new species, neither modern human nor Neanderthal. Secondly, it could be a Neanderthal child, resulting from a union between a Neanderthal and an unknown species. Lastly it could be a Neanderthal individual, carrying variations in genetic make up thus far not identified in predominantly European samples.
The possibility that we are dealing with a completely new species is the most exciting. It is also one that most people caution us against. "Too soon," "not enough material," are some of the more common reactions. Others disagree and support the notion that this is a different species. This argument between those who see few species in the archaeological record ("lumpers") and those who prefer a larger number of species ("splitters") is one that has been described in a previous blog.

Skeleton of an alleged
Homo sapiens – Neanderthal
hybrid child found in Portugal.
Image courtesy of donsmaps
The scenario raising the possibility of an interspecies affair (between Neanderthal and another species) is favored by some, who see parallels with an alleged Neanderthal – modern human hybrid child found in Portugal. In this case, however, we would be looking at a child of a Neanderthal and a yet unknown species. This still implies that we had an unknown creature wandering the Siberian wilds, one whose genetics were inherited by a mixed offspring. In other words, this scenario still requires acceptance of the existence of an unknown species.
Finally it is conceivable that the breath of Neanderthal genetic variation is such that we have not mapped all of it. Given that most research on Neanderthals has concentrated on European materials, rather than Siberian, perhaps these Eastern Neanderthals carried in them a number of genetic variations that hark back to the original population in Africa. This would support the third option, one which identifies this pinky bone as belonging to a Neanderthal individual, albeit it with genetic markers not encountered in European samples. If identified as such, then this bone would reinforce the notion that Neanderthals occupied a much larger territory than originally assumed.
This discovery is meaningful in several ways. It illustrates that science marches on, providing answers to questions and, in the process, raises additional questions. It also shows how meticulous one has to work as an archaeologist or paleoanthropologist. One small pinky bone has provided us with a "what-in-the-world-is-this?" moment. The decision to perform a DNA test warns us not to be complacent. Up until recently, the party line about who was around some 40,000 years ago would have been answered with Homo sapiens or Neanderthalers, and nobody else. We are now forced to entertain the possibility of a hitherto unknown species living side by side with the other two. That is the promise this one tiny pinky bone holds.
A few final comments and thoughts.
What most articles I have read do not elaborate on is the fact that research is now happening in Siberia. This is a huge territory, difficult to access for all kinds of reasons. When discoveries like these are made, we should not be surprised that they generate questions we cannot answer yet, as researchers are accessing a territory close to the size of the US (a fact appreciated more than a century ago). I hope this discovery will result in greater support for research in the region. One day I am sure we will have a much clearer picture of what it is we are dealing with here.
Pinky promise.