It's finally here, folks – our Magna Carta exhibit is open to the public! For the first time ever, this document has traveled from its home in Hereford Cathedral to come to Houston.
HMNS hosted a press event yesterday, with presentations by Houston Mayor Annise Parker, Reverend Canon Chris Pullin of Hereford Cathedral, and British Consul General Andrew Millar. Here are some highlights:
Mayor Parker opened the event remarking that "Magna Carta is one of the most important documents in the world." Saying that she was glad to come to the event not just as mayor of Houston, but as a Museum member, she continued, "It's an exciting time for the City of Houston and a wonderful, wonderful day for the Houston Museum of Natural Science."
Next the Reverend Canon Chris Pullin, Chancellor for Hereford Cathedral, spoke. With cheerful excitement, he mentioned how it was quite likely that more people would see Magna Carta at HMNS in the next six months than would at Hereford in the next "20 or 25 years." He went on to describe Houston as a fitting destination for Magna Carta, in part because of the role Houston had in building America's space program. While these events may not seem related, he drew comparisons between "an American project that did something for the whole world" and a British document, which has come to "represent a step forward for the whole of humanity," laying out ideas for "what it is to live properly with respect to one another in this world."
British Consul General Andrew Millar called it "a momentous day," speaking on the role Magna Carta continues to play in the modern quest for justice, calling it "the foundation of human rights." Underscoring how important it is for today's youth to have an understanding of rights and justice, he continued, "I will definitely be bringing my children. I hope everybody else brings theirs as well."
And it seems that many children, in fact, will get to see the document. According to Joel A. Bartsch, President and CEO of HMNS, over 4,000 students already have tickets to come see Magna Carta on field trips.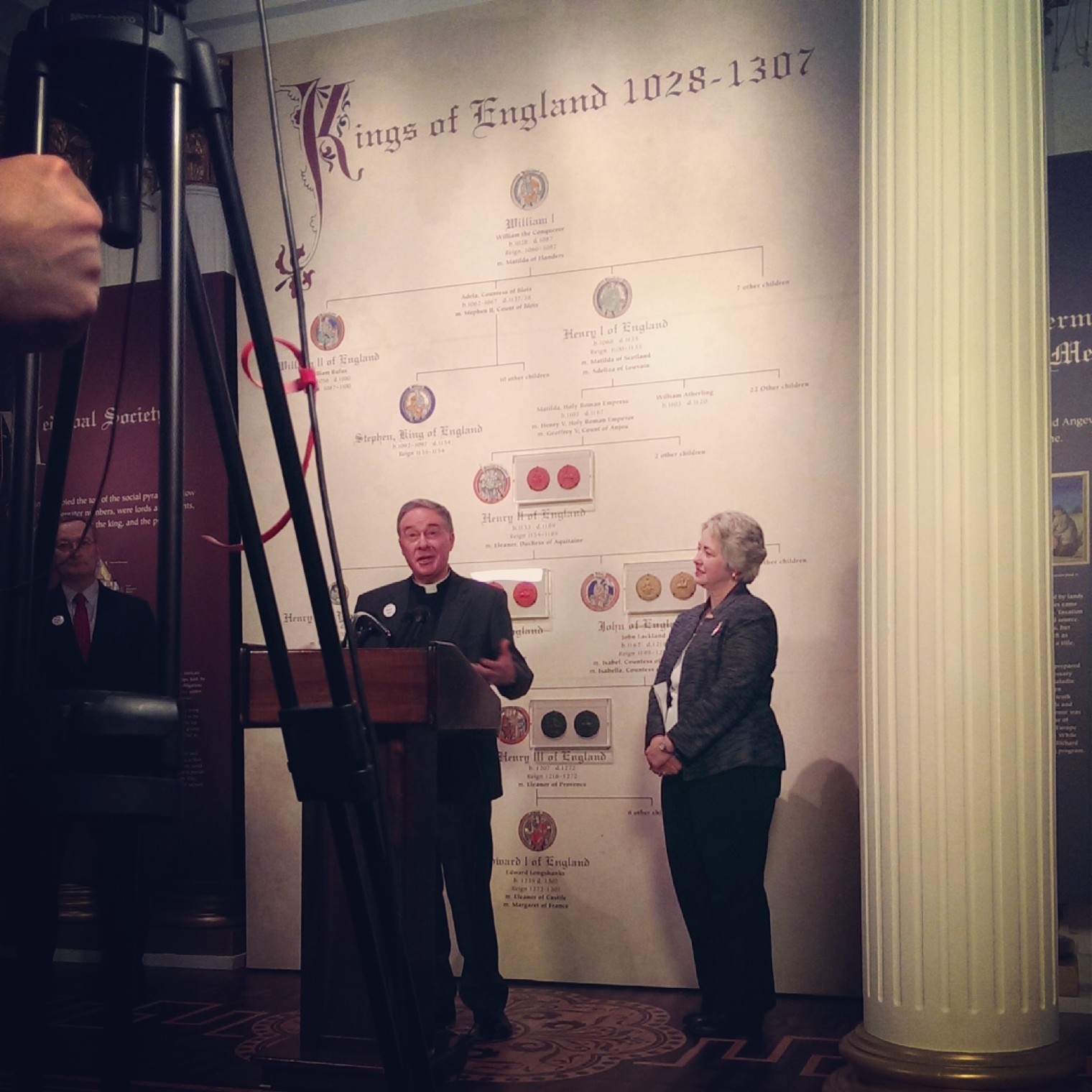 We were also fortunate to have several descendants of the barons (the 25 barons who forced King John to accept Magna Carta) at the press conference. These descendents are a few of over 100 living in the Houston area. Margaret Gene Harris, descended from 14 barons, said, "To bring [Magna Carta] to the Houston area … that is magnificent." On learning about her heritage and connection with the document, she remarked that when she was younger, "I didn't care a whit and feather about genealogy," but now has deep-held respect for her ancestors. "You find out they are human beings," which gives Gene Harris a new perspective on the document.
Another descendent, Nedaye G. Potts, said that seeing Magna Carta in person was, "in a word, awesome." Bill Griffith, descended from 16 barons, shared this sentiment, stating, "It's very exciting to see it in person. There's a big difference in seeing the actual document."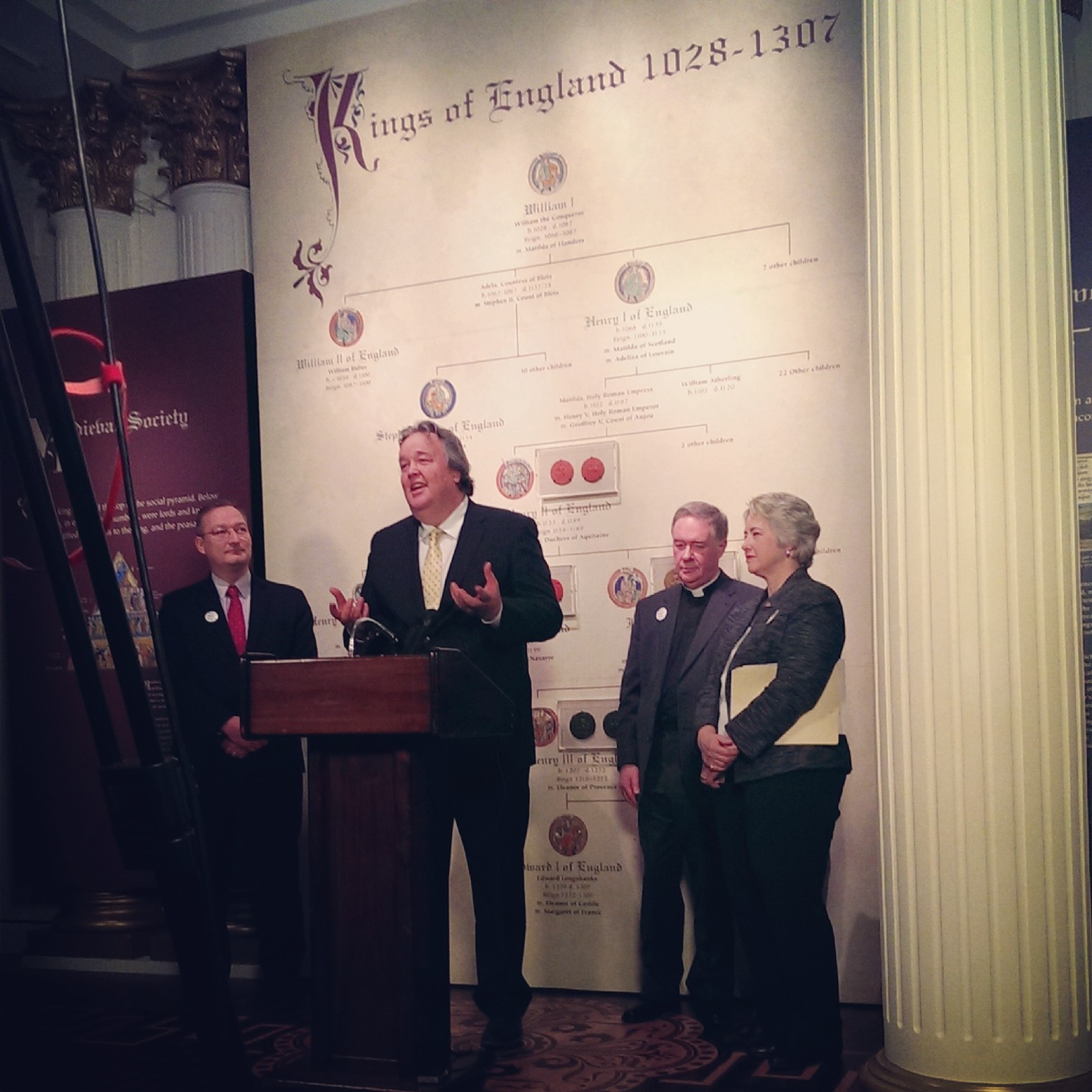 "It's a privilege to be able to see it," remarked Susan Tillman. "It takes the abstract and makes it concrete. There are very few documents that have been produced through the lifetime of man that have held relevance right up to today, and this is one of them."
So there you have it! Magna Carta at HMNS is a once-in-a-lifetime chance to see one of the most influential documents in history. So don't wait, join the British sensation today!