We had a terrific time at the Girls Exploring Math and Science event last year on Saturday, February 19, 2011. The Museum was buzzing with lots of learning – songs about kinetic and potential energy, buzzing instruments made with straws, Popsicle sticks and rubber bands, and lots of "ah-hah" moments throughout the day!
We had a fabulous presenting sponsor in KBR and two of their engineers were our featured speakers, Rachel Amos and Elaine Jimenez. Rachel and Elaine shared with the GEMS attendees a bit about their careers in Mechanical Engineering with KBR, their education, some tips for aspiring young engineers and scientists, and even a little about what they loved about math and science as kids. Interactive booths were hosted throughout the building by students, girl scout troops and local organizations and companies – there was so much to learn everywhere you turned!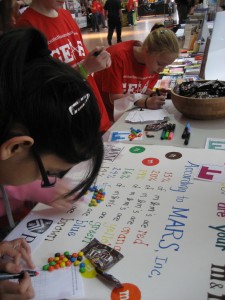 Girl Scout booths have just been accepted for GEMS 2012 and there are some exciting topics and new ideas I'm very excited to see.
We're still accepting applications from School Groups for booths and if you're just now considering hosting a booth with your friends or opening it up to your class for extra credit it's time to get some brainstorming going!  
What is a topic you'd like to know more about? What have you recently learned that you would want to share with your peers?
Here are a few links to sites that might inspire you for your awesome GEMS booth! Applications for school booths can be found online here at the HMNS website.
The Library of Congress – Everyday Mysteries
PBS.org's Zoom for kids  – this link is to the engineering section but they offer lots more if you click around
How Stuff Works – go ahead – ask how it works!
Penn State College of Agricultural Science – Food Science
Exploratorium.edu – so many cool things to explore!
I'm also including some fabulous outcomes provided by some of our super star 2011 presenters, the "Truth in Numbers" group and the Rice University Association for Women in Mathmatics both presented booths on the topic of statistics and asked visitors to participate in their experiments pulling samples and recording results!
We can't wait to see what everyone comes up with for GEMS 2012!