Guest Blogger Brian Fagan, Ph.D., New York Times best-selling author of The Great Warming and Cro-Magnon comments on his career in archaeology and his interest in tracing ancient climate change, at his August 8 lecture at HMNS. Fagan also talks about his new book, Elixir.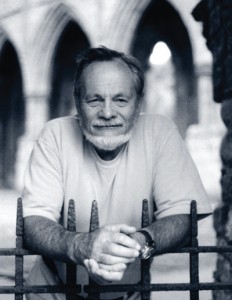 I became an archaeologist almost by accident while at Cambridge University in England. By chance, I got a job working in a museum in Zambia, then Northern Rhodesia, and ended up spending seven years doing archaeological research in East and Central Africa. I was excavating ancient farming villages and helping write African history, which gave me a passion for sharing the past with the public.
Since coming to the United States in 1966, I've specialized in writing about archaeology for general audiences. This morphed into a long-term interest in ancient climate change and how it affected humanity. This has culminated in three books: The Great Warming, which describes climate changes 1,000 years ago, Cro-Magnon, about hunters in the Late Ice over 20,000 years ago, and my latest book, Elixir, a history of humans and water.
Elixir took me on a fascinating journey through 10,000 years of history—to Egypt, India, and Mesopotamia, to Greece, Rome, and Medieval Europe, the world of the ancient Maya and the Arizona desert. I learned all about gravity, about brilliant Islamic water engineers, and the Inca of the Andes, who invested in water for eternity. Are these long forgotten efforts at water management relevant to our world. Most certainly they are and our journey ends in today's world, where we face a quiet crisis of ever-scarcer water supplies.
Dr. Fagan will give a lecture entitled "Elixir: A History of Water and Humankind" on Monday, August 8 at 7 p.m. at the Houston Museum of Natural Science. Following the lecture he will be signing copies of his new book Elixir: A History of Water and Humankind and Cro-Magnon. Book signing by Brazos Book Store at HMNS.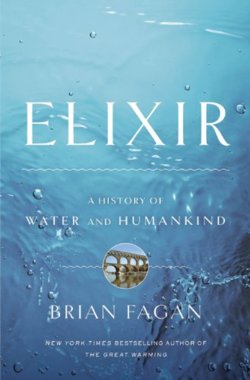 Click here to purchase tickets.
Click here to read an author interview about Elixir.
More on Dr. Fagan
Check out Dr. Fagan's appearence on the Daily Show, where he discusses  The Great Warming.
About Dr. Fagan
Brian Fagan was born in England and studied archaeology at Pembroke College, Cambridge. He was Keeper of Prehistory at the Livingstone Museum, Zambia, from 1959-1965. During six years in Zambia and one in East Africa, he was deeply involved in fieldwork on multidisciplinary African history and in monuments conservation. He came to the United States in 1966 and was Professor of Anthropology at the University of California, Santa Barbara, from 1967 to 2004, when he became Emeritus.
Since coming to Santa Barbara, Brian has specialized in communicating archaeology to general audiences through lecturing, writing, and other media. He is regarded as one of the world's leading archaeological and historical writers and is a widely respected popular lecturer about the past. His many books include three volumes for the National Geographic Society, including the bestselling Adventure of Archaeology. Other works include The Rape of the Nile, a classic history of archaeologists and tourists along the Nile, and four books on ancient climate change and human societies, Floods, Famines, and Emperors (on El Niños), The Little Ice Age, and The Long Summer, an account of warming and humanity since the Great Ice Age. His most recent climatic work describes the Medieval Warm Period: The Great Warming: Climate Change and the Rise and Fall of Civilizations. His other books include Chaco Canyon: Archaeologists Explore the Lives of an Ancient Society and Fish on Friday: Feasting, Fasting, and the Discovery of the New World and Cro-Magnon: How the Ice Age gave birth to the First Modern Humans. His recently published Elixir: A History of Water and Humankind extends his climatic research to the most vital of all resources for humanity.
Brian has been sailing since he was eight years old and learned how to cruise in the English Channel and North Sea. He has sailed thousands of miles in European waters, across the Atlantic, and in the Pacific. He is author of the Cruising Guide to Central and Southern California, which has been a widely used set of sailing directions since 1979. An ardent bicyclist, he lives in Santa Barbara with his wife Lesley and daughter Ana.