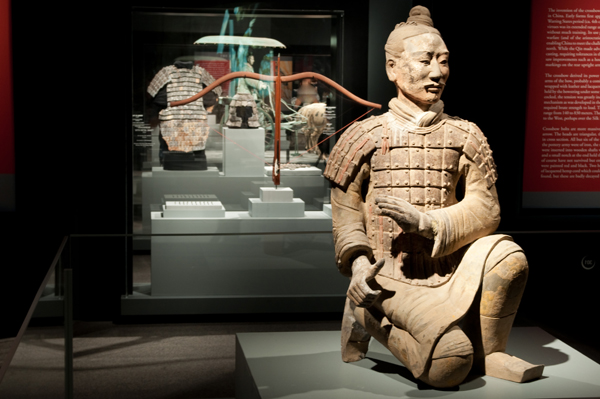 Houston Cougars
There are some amazing photographers that wander the halls of HMNS – as well as the areas surrounding the Museum in Hermann Park. When we're lucky, they share what they capture in our HMNS Flickr pool. Each month, we highlight one of these photos here on the blog.
This month, we're featuring a photo from Arie Moghaddam, known as Houston Cougars on Flickr, who is a regular attendee of the Museum's Flickr meetups. This photo is from the meetup we held in our Summer 2009 exhibition, Terra Cotta Warriors: Guardians of China's First Emperor.
Why would we feature an image that's celebrating it's 2nd birthday? First: we're thinking a lot about the Terra Cotta Warriors lately – since we've just announced a new exhibit featuring these wonders of the world!
Warriors, Tombs and Temples opens April 1, 2012!
The upcoming exhibit  includes 200 incredibly preserved ancient works of art featuring newly-discovered artifacts unearthed from imperial, royal and elite tombs and from beneath Buddhist monasteries in and around the capital cities of three great dynasties – as well as four of the famous life-size Terra Cotta Warriors!
And, second: it's a great image with a unique perspective on the original exhibit. Arie shared a few words about what inspired it:
As for what inspired me to take the picture (aside from you being nice enough to invite us), of all the pictures I took I think this one best captures the essence of the exhibit since it combines the statue, cross bow, and armor in a logical order which any emperor would be pleased to have in his necropolis.
Inspired? Most of the Museum's permanent galleries are open for photography, and we'd love for you to share your shots with us on Flickr, Facebook or Twitter. Check out the HMNS photo policy for guidelines.
Terra Cotta Warriors was a temporary exhibit, and photography was restricted outside of special Flickr meetup opportunities. Follow our posts in the HMNS Flickr pool for announcements about upcoming events.