This is a guest post by Amy Potts, Director of Adult Education at the Houston Museum of Natural Science and organizer of the museum's lecture series.
Until pediatrician Dr. Gregg Dimmick began investigating, little was known about the Mexican Army following their defeat at the Battle of San Jacinto.
Ten years of archaeology and archival research have brought Dr. Dimmick a new understanding of this forgotten story of the Texas Revolution – findings that now render most Texas history books' accounts of the events invalid.
Dimmick and his "digging buddies" have located artifacts dropped or discarded in the mud by Mexican soldados more than 165 years ago. Thousands of hours excavating in the "Sea of Mud" (El Mar de Lodo) have produced hundreds of items along with the army's trail—munitions, arms, uniform fragments and personal items, all serving to paint a more accurate picture than we have heretofore had of Santa Anna's army and its response to his order to retreat.
Don't miss Dr. Dimmick's lecture at the Houston Museum of Natural Science on July 11 in which he will tell the fascinating story that has been uncovered in the "Sea of Mud."  Included will be latest findings of the research on the Juan Alomonte surrender site and the skulls discovered by James Audubon.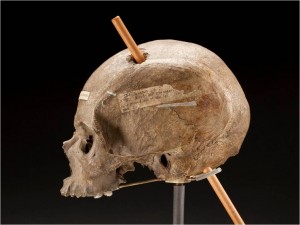 In 1837, the famous ornithologist, James Audubon, was in Texas drawing birds.  He came to the San Jacinto Battleground and collected some skulls of the Mexican dead for his friend, Dr. Morton.  Morton was a craniologist in Pennsylvania.
Jeff Dunn of the Friends of the San Jacinto Battleground discovered that these skulls were still in a collection at the University of Pennsylvania.  The Friends of San Jacinto hired Dr. Doug Ousley of the Smithsonian to do a forensic study on these skulls.
Dr. Gregg Dimmick is the leading authority of the Mexican Army's retreat and will tell the tales he uncovered in his archaeological investigations at HMNS on Monday, July 11, 7 p.m. Brazos Bookstore will host a book signing following the lecture at the museum.