Today's post was written by our volunteer Pat Hazlett
"Come and Take It!" "Remember the Alamo!" "Remember Goliad!" What Texan is not familiar with these phrases?  Phrases to stir the soul, inspire courage, and incite rebellion. Each phrase is associated with a pivotal point on Texas' road from revolution to independence.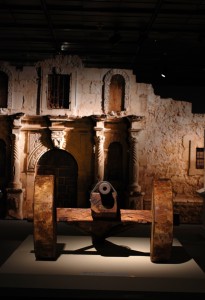 "Come and Take it Cannon"
On display in Texas!
On October 2, 1835 the Mexican commander at San Antonio ordered the people of Gonzales to surrender their small brass cannon. Local officials refused and sent runners into the surrounding areas to gather armed men. The Mexican colonel ordered about 100 soldiers to take the cannon by force.  Buried until reinforcements arrived, the cannon was then mounted on a wagon and decorated with a white flag proclaiming, "Come and Take It." The Mexican soldiers arrived to confront 160 armed Texans and a brief battle ensued. One Mexican soldier was killed, but no Texans. The Mexicans withdrew to San Antonio.  News of the "battle" spread and ignited fervor among Texans.
By early 1836 the Texans in San Antonio occupied the abandoned mission, San Antonio de Valero. The old mission had once housed a Spanish company from Alamo de Parras in Mexico. So, most people referred to it as the Alamo. Colonel James Bowie and his men joined Colonel James C. Neill, commander, in January 1836. In February, William B. Travis and his men joined them. Bowie was chosen commander of the volunteers, Travis of the regular army.  However, Bowie became ill and passed the entire command to Travis. Although the Alamo was a fairly good defensive position, Travis knew they had too few men (less than 200). There were also gaps in the Alamo walls, closed only with sticks and dirt. Regardless, Travis was determined to hold the Alamo, which had come to symbolize much for its defenders. This would also tie up Santa Anna's army and give Sam Houston more time to raise a Texas army. Despite written appeals for help, help did not arrive in time. As Mexican troops encircled the Alamo, Travis explained that remaining would mean certain death. According to legend, he drew a line in the sand with his saber, asking those who wished to stay to cross over the line.  All but one stepped across.  At about 5:00 a.m. on March 6, 1836, the battle began. Mexican buglers played the notes of "El Deguello," an ancient chant indicating that no mercy would be shown. The Texans put up a stubborn fight, but the third assault by the Mexican troops successfully breached the walls. By 8:00 a.m. the battle for the Alamo was over. Bowie, Travis, and volunteer Davy Crockett were all killed. "Remember the Alamo!" became a battle cry for Sam Houston's army.
Also by 1836, the Spanish presidio, La Bahia, near the town of Goliad was under Texas control, commanded by Colonel James W. Fannin. General Sam Houston had ordered Fannin to retreat to Victoria, but Fannin delayed and found himself surrounded by Mexican forces at the Battle of Coleto. He and his men surrendered and were imprisoned inside the presidio at Goliad. Many Texans believed they were prisoners of war and would be treated fairly by their Mexican captors. Though the surrender document, in Mexican archives, shows no such promise, eyewitnesses testified that Mexican general Urrea assured Fannin that he and his men would be treated fairly. General Urrea even wrote to Santa Anna, requesting that the lives of the prisoners be spared. Santa Anna replied with immediate execution orders. On March 27, 1836, Palm Sunday, Fannin, his men and other Texan captives were divided into columns and marched out onto the prairie. They believed they were going on work detail; some even assumed they were going home. Upon a signal, Mexican soldiers opened fire on them, killing them all. Colonel Fannin was the last to be shot, forced to watch the execution of his own men. "Remember Goliad" joined "Remember the Alamo" as the battle cry of Sam Houston's army, soon to be victorious at San Jacinto. 
Don't miss your chance to see Texas! The Exhibition, on display at the Houston Museum of Natural Science through September 7.
Bibliography:      
Anderson, Adrian N., et al. Texas and Texans. Columbus, Ohio: Glencoe/McGraw Hill. 2003.
Barkley, Roy R. and Mark F. Odintz. The Portable Handbook of Texas.  Austin: Texas State Historical Association. 2000.