When studying history, even a female like me becomes comfortable surrounded by male heroes. In Texas history, we were taught from an early age that Stephen F. Austin is the "Father of Texas," that Davy Crockett and William B. Travis fought and died heroically at the Alamo, and  that James Fannin and his men were surrounded and gave their lives in the Goliad Massacre.
We know this great state of Texas was once its own republic lead by strong men such as its first President – the hero of San Jacinto – Sam Houston. History is chock full of great, notable men. So what about the women? Surely remarkable females were around?
Certainly women suffered and persevered like the men we are all familiar with. In Texas! The Exhibition we highlight a few women who helped build and shape Texas as it grew from a Spanish owned territory to a thriving state in the Union.
Women were not expected to play pivotal rolls in early Texas history. They were seen as venerable, delicate creatures that should be protected. Those who made their mark, despite these prejudices, were undeniably extraordinary!
Jane Long
Jane Long, for example, garnered such an incredible reputation for survival and determination that she was dubbed the "Mother of Texas."
Jane and her husband, James Long, moved to the Bolivar peninsula while Texas was under Spanish rule.  James left a very pregnant Jane and their young daughter at a fort on the peninsula to fight for the cause of freeing Texas from Spanish rule. Jane, her daughter, and a slave girl fended off Indian attacks by making the fort look as if it was inhabited by military protection.  On December 21, 1821 Jane gave birth to another daughter.
Jane would later discover that she was widowed and would move to one of Stephen F. Austin's colonies. She opened a hotel that became a center for gatherings and celebrations. When Stephen F. Austin returned from his imprisonment in Mexico, the hotel hosted a ball in his honor.
Though Jane would live out the rest of her life as a widow she did not lack for suitors. It is said that she was pursued by Stephen F. Austin, Sam Houston and even William B. Travis. Jane died in 1880 and was buried in Richmond Texas. Her gravestone reads: "Mrs. Jane H. Long, The Mother of Texas."
Jane Hughes
Another lady of Texas, while only briefly highlighted in the exhibition, is Jane Hughes.
We don't know a lot about Ms. Hughes. We know she was a widow with a large family. We also know she received a land grant– in her name– from "Estevan F. Austin." Looking at the grant, there are a couple amazing thoughts that come to mind. First of all, a woman was given a land grant. This was almost unheard of during this time in history. Also, the grant is written in Spanish. Does this mean Jane was bilingual or a native of Mexico who only spoke Spanish? This paper is solid proof that women were making their way in the rugged Texas land.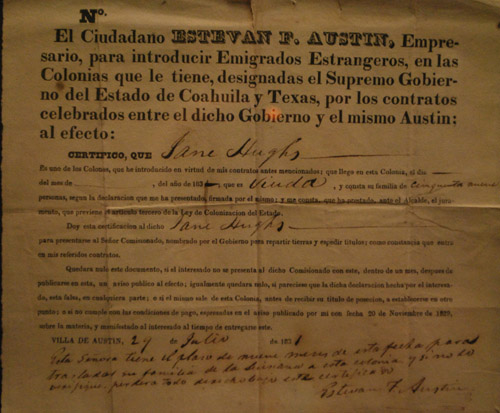 Land grant for Jane Hughes
Ann Chase
"Mexico has … shed American blood on American Soil."  -James K. Polk
With these words in 1846, Mexico and the United States went to war over a "slice" of disputed land in southern Texas. At the start of the war, Americans living in Mexico were required to leave the country. Ann Chase, a British subject, was allowed to stay even though her American husband was forced to leave their home in Tampico, Mexico.
So, why would a woman want to stay in Mexico during the war?
Hold on to your socks….she was a SPY! Being a woman, she had the perfect cover for covert operations. Ann reported back to the U.S. government on daily life in Mexico, but most important on the movement of Mexican forces and ships. When you visit  Texas! the exhibition, you'll have the opportunity to check out her journal and a Presentation Pitcher given to her in 1848 for her service to the United States.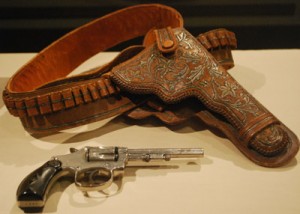 Allie Townsend's Lady Smith .22 gun
Allie Townsend
A group of brave men protected Texas' open range. This group was initially started by Stephen F. Austin, and they would later be known as the Texas Rangers.
Contrary to what you might think this was NOT an all boys club. Allie Townsend shoots down that theory in Texas! The Exhibition by allowing us to display her holster belt and Lady Smith .22 gun. Allie was an honorary member of the Texas Rangers and helped guard the west with her husband E.E. Townsend, father of Big Bend National Park. It is nice to see that some organizations were a step above the rest by allowing women to be among their ranks. I guess the Texas Rangers were progressive before progressive was cool.
So despite the preconceptions of the day, women were working as hard as some of the men to shape this great Texas land. Their roles may seem minor, but they had a long and lasting impact. Come and see some of their personal items in Texas! The Exhibition.
A Nod to the Ladies (Other items of interest in the Texas! exhibit.)
1950 Rodeo Suits
Turkey Feather Dress (1939)
Mardi Gras Gown (w/ San Jacinto appliqué)
Macquette for The "Spirit of the Centennial" Statue of 16 Year old Georgia Carroll Kyser
Interested in learning more about Texas? Check out our other blog posts and don't miss your chance to see Texas! The Exhibition, on display until September 5.