April begins the Spring season.  The sun lasts longer, flowers start to bloom, and romance can be in the air.  April was originally the second month of the Roman calendar and is probably named for the Latin word aperire, meaning "to open."  It is always a wonderful thing to see animals born during the winter come out, to have days where the daytime requires shorts and a t-shirt, but the nights need a jacket. April is also Jazz Appreciation Month.  Some nice lively music for a lively month (if you're in Houston check out the Discovery Green on Thursdays). The gem for April is a diamond and the flower the daisy.  Both are bright and shiny.
So what else happens in April?
One of my favorite holidays of the year is on April 1.  Although in recent years I have tried to tone down my pranks after the incident with the fencing equipment room and the new lock.   Some of the other celebrations that passed this month are just for fun (like Caramel Popcorn Day on April 7 or Scrabble Day on April 13).  Other celebrations are more serious such as the celebration of the first man to leave the atmosphere (Yuri Gagarin on April 12, 1961) or the sinking of the unsinkable boat (RMS Titanic on April 15, 1912).
The big thing in April for the Wiess Energy Hall and the ECC is Earth Day.
Earth Day was on April 22 and is a celebration about conservation.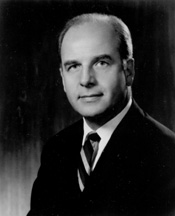 Senator Gaylord Nelson
The first Earth Day was on April 22, 1970.  It was created by Senator Gaylord Nelson from Wisconsin.  He wanted to generate political concern for the environmental movement.  While there was another Earth Day proposed to President Kennedy, Senator Nelson decided to have a decentralized, bottom up approach.  Instead of having Congress enact something on a national scale, the senator wanted the events to come from local interests.  He also thought of it as a teach-in (for those of us who are not from the 1970's a teach-in is where a bunch of people, usually students and teachers, get together and talk about a broad issue.  It's like a forum, but with specifics.  Silly '70s).
On the first Earth Day, over 20 million Americans participated, mostly on college and university campuses.  April 22 was chosen because it was between Spring Break and exams (and had nothing to do with Vladimir Lenin).
Since then, Earth Day has evolved into a global celebration.  In 1990, the 20 Earth Day, 200 million people celebrated in 141 countries.  With the invention of the internet, more and more organizations have been able to get involved.  In 2009 the United Nations recognized April 22 as International Mother Earth Day.  This year the tag line is "A Billion Acts of Green."
On April 30, the Houston Museum of Natural Science will have its big Earth Day celebration from 10-2 (and it's free). I'll be helping to make paper wind turbines.  Drop by and join me.