The runaway success of the Night at the Museum movies shows people's fascination with what goes on around the T. rex after the Museum closes its doors. More often than not – it's a party! And we have a department dedicated to managing events that take place here at the museum, from weddings in the Cockrell Butterfly Center to out-of-this-world events in our Planetarium.
Leslie and Nancy are starting a new series on the blog to give you insight into what makes a great party – not just here at the museum, but wherever you might choose to throw one.
To introduce you, we asked them a few questions about what it's like to plan an event where dinosaurs are typically in attendance.
You're the Museum's event coordinators. What exactly does that mean?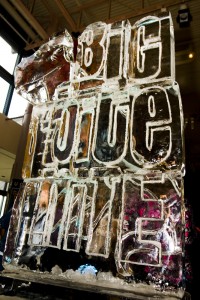 L: We handle some of the Museum's internal events such as Big Bite Nite and VIP nights for exhibit openings. We also work with individuals and corporations that want to rent the Museum for private events. Specifically, our tasks include site visits with clients to help determine the right space for their event, putting them in contact with our caterers and coordinating details between the client, caterers and Museum staff.
N: Basically we work with clients who want to rent out the Museum for a corporate or individual event from start to finish.  Typically that involves gathering details about the event, recommending a venue within the Museum, going over pricing and policies, leading site visits, filing contracts, collecting payments, coordinating with the caterer, and managing the event.

What kind of events do people host here at HMNS? 

L: People host all sort of events here, from corporate dinners and client appreciation events to wedding ceremonies/receptions and bar/bat mitzvahs.
What's the neatest thing someone has done to make an event at the Museum unique?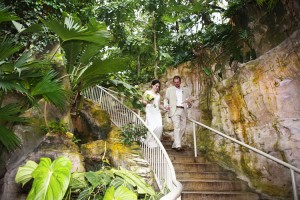 L: The Museum is such a unique place that our clients are always coming up with creative ideas to enhance their event. I have seen some  really great themed events in the Cullen Hall of Gems and Minerals. For example, one client turned the Gem Hall into a swanky lounge and had a signature drink with rock candy that looked like the gem and mineral pieces. They also gave out diamond shaped paperweights engraved with the company's name as favors.
N: Just the venue in itself is very unique.  Not everyone can say they have dined and danced with dinosaurs or had an elegant dinner next to some of the most stunning gems and minerals in the world or gotten married in a lush indoor tropical rain forest with butterflies fluttering over their heads.
Is planning events in such a large, diverse venue a challenge?
L: It is actually the diversity of the space that makes the Museum an attractive event venue. We have noticed that the one thing that unifies our clients is that they all want something different. Also, because the Museum is not a traditional space like a hotel ballroom there can be some challenges in planning an event here. It certainly helps to have experienced vendors working in the space. Our caterers and their staff do a fantastic job at setting up and working around any challenges.
N: Actually the size and diversity of the venue works to our favor.  The Museum can handle events from 20 to 2,000 guests and the variety of exhibits makes a great backdrop for any event.  

What kinds of things can readers expect from your upcoming posts?
L: You can definitely expect some info on the latest event trends and how to apply those trends to events at the Museum. Because we know that planning events can sometimes be a little overwhelming, we'll also provide some practical tips and tools on how to organize and execute your event successfully.
N: Our upcoming posts will include event tips and trends, fresh ideas, and the benefits of hosting an event at HMNS.