The rotating case in Phase II of the Frensley-Graham Hall of African Wildlife had a new mount installed in early July – a Bontebok (Damaliscus p. pygargus), with the skin donated by USF&WS.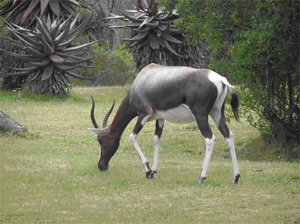 Photo of a Bontebok in Bontebok National Park
(Winfried Bruenken)
This small African antelope is in the Alcelaphine Tribe, which includes Impala, Hartebeest and Wildebeest.  It is a subspecies of Damaliscus pygargus; the other form is the closely related Blesbok (Damaliscus pygargus phillipsi).  Both forms were restricted to the southern regions of South Africa, and the fragments of land they inhabited ultimately resulted in their extinction within their traditional range.  However, today both are commercially ranched in suitable numbers throughout Africa to the point where neither form is considered threatened with extinction in any form.  One of these ranches was effectively turned into Bontebok National Park, and contains 200-250 Bontebok.
Bonteboks are extremely fast.  When pressed they can easily outrun a predator, and calves only a week old are capable of outrunning a rider on horseback.  One strategy they have is running against the wind, with their head down such that their noses are nearly touching the ground. 
If you haven't had a chance to see the new Bontebok on display yet, go on up and have a looksy!