Ants are endlessly fascinating.  They seem so HUMAN in the way they bustle around, cooperating in all things whether building great metropolises, hauling food, overcoming enemies or taking care of their queen and their baby sisters.  They epitomize industry and selfless devotion to the cause – their colony.  Of course as children we may have squished dozens of these little workers, but we have also watched their activities in wonder, marveling to see so many of our own behaviors reflected in their activities.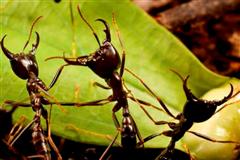 Dagger-Jawed Army Ants
©Mark W. Moffett/Minden
With 12,000 species world-wide, ants are the most diverse and widespread of the social insects, which include termites and some wasps and bees.  Ants are found on every continent and in every habitat, but are especially successful in the tropics.  Everywhere they are abundant and in many habitats are the dominant organisms, in terms of individuals far outnumbering all other animals.  They have few enemies and many have long-lasting, stable colonies.  Individual ants are remarkably long-lived, as insects go, with queens living as long as 13 to 15 years or so, and some workers surviving 4-7 years.  Unlike other social insects such as termites or honeybees, which are quite specialized, ants have many different ways of life.  Some have mutually beneficial relationships with plants or other insects.  Although a few ants are household pests, and some may cause agricultural or other damage, many are beneficial in terms of controlling pest populations, cleaning up wastes, and aerating the soil.
All ants are social; there are no solitary species.  Some are tiny, less than 1/16 of an inch long, while some tropical species are over an inch in length.  Depending on the species, ant colonies may be made up of only a few individuals, while others number in the millions.  In this and other ways, ant societies appear to parallel human societies.  Some are simple hunter-gatherers, with little specialization among workers, while others have huge and sophisticated societies with highly specialized tasks divided among different "castes."  Driver ants in Africa and army ants in South America are ruthless predators, moving in huge numbers from temporary bivouac to bivouac in search of prey.  Any of us who read "Leinigin versus the ants" when we were in school can still remember the terror inspired by the image of a huge river of driver ants overrunning everything in its path.  Leafcutter ants also have huge colonies, but theirs are sedentary and underground, sometimes lasting more than 20 years.  Leafcutters are farmers, chewing up fresh leaves and fertilizing them with their saliva and feces to provide a rich substrate for the fungus they cultivate as food for the colony.  Harvester ants in dry grasslands stockpile seeds in underground storage areas.  Other ants are ranchers, herding and protecting groups of tiny, honey-dew producing insects such as scale and aphids.  Desert-dwelling honeypot ants use their own sisters as "cisterns" to store honeydew.  Formica ants in boreal forests make huge mounds of pine and spruce needles, which serve to regulate temperature and humidity.  Some ants do no work themselves, instead robbing pupae from neighboring ant nests, and then forcing the captured ants to work as slaves.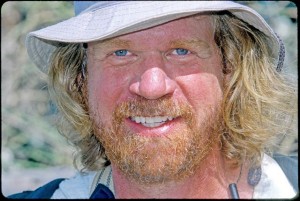 Dr. Mark Moffett
Photo by Frank J. Sulloway
Mark Moffett, renowned National Geographic photographer and explorer, has made a career out of his fascination with ants, and will be at the museum to talk about his favorite organisms on Wednesday, September 15.  An enthusiastic speaker with – needless to say – wonderful photographs – Mark will regale his audience with tales of warfare, industry, and cooperation.  He encourages all ages to attend!
Don't miss Mark's distinguished lecture at HMNS:
"Adventures Among Ants: A Global Safari with a Cast of Trillions"
Mark Moffett, Ph.D.
Wednesday, September 15, 6:30 p.m.
Purchase your tickets in advance here.
Check out Moffett on Colbert in May 2010: