Today's guest blogger is Neal Immega. He has a Ph.D. in Paleontology and is a Master Docent here at HMNS. In his post below – originally printed in the Museum's volunteer newsletter– Neal discusses the Geosaurus, a fossil featured in our exhibition Archaeopteryx: Icon of Evolution.
The Houston Museum of Natural Science has a new exhibit, "Archaeopteryx: Icon of Evolution" that features the best Archy ever.  Do not let that blind you, though, to the other critters on display. One of these is the best marine crocodile anywhere, a Geosaurus with an exciting evolutionary story all its own. These animals have a worldwide distribution from Brazil to Germany, but this specimen is the most complete, and shows the soft parts. Ah, the preservation of fossils in the Solnhofen limestone is amazing.
Let's see what observations we can make from the skeleton and what conclusions we can draw. Look at this picture and get an overall impression of the fossil. The label says it is a croc, but is it? It does not look like any croc I have ever seen.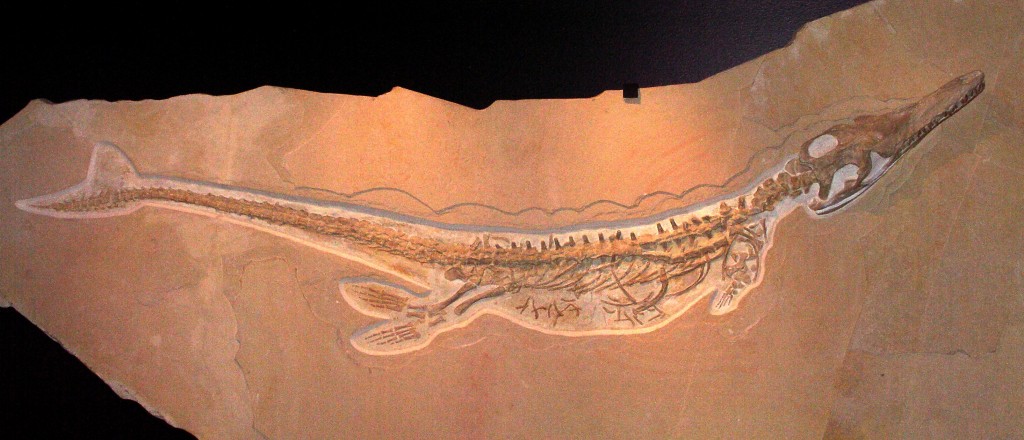 Complete Geosaurus skeleton, with skin impressions, from the Solnhofen limestone.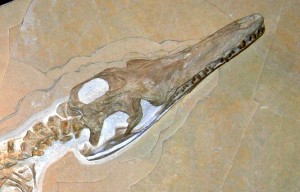 Geosaurus skull showing croc dentition
Head: The front end certainly looks like a modern crocodile head. The teeth are conical and striated, with the typical croc dentition:  teeth are located inside and outside the jaw line, and there are large teeth half way down the jaw.  Modern crocs use them for breaking turtle shells (see the YouTube video referenced below).
Tail: Ok, so it is a croc but it does have a very strange tail. Let's look more closely at the tail to see if there is any support for the decision the preparator made to indicate a tail like a shark's.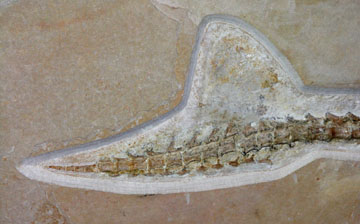 The faint skin impressions support
interpretation as a shark-like tail.
The discolored rock strongly suggests that the tail does have a shark outline, unlike that of all known modern crocodilians. Even better, compare the caudal processes (bumps on the top of the vertebra) in the area of the fin to those farther up the spine.  The processes in the tail fin area are longer and reverse orientation: they point toward the head, possibly as support for the fin. The fin is real!
Armor: This croc does not have any! There are no osteoderms (bony plates inside the skin) anywhere. The osteoderms in modern crocs do not provide complete coverage and thus are not much use as armor; however, a modern croc has muscles between its osteoderms that can stiffen up the skin during rapid land movements.  Apparently Geosaurus got along without them.
Legs: The arms are very short in proportion to the legs, quite unlike modern crocs.
Salt Gland: Many animals have glands to secrete sodium chloride because they live in or on life from the ocean and eat way to much salt. This animal is said to have chambers in the skull for a salt gland, but I cannot see it. I guess I will take their word* for it. A modern croc has a salt gland in its tongue while many birds have theirs in the skull.
Analysis: Modern crocs are slow swimmers and, thus, ambush predators. A shark-like tail suggests this was a higher speed predator. A modern croc has about 5% of its weight in osteoderms and their absence would improve the water speed at the expense of land speed. I think we have caught this croc species in the transition stage of becoming a true marine predator. It still had clawed limbs to crawl out on the land (to mate and lay eggs) but their smaller size would certainly help reduce drag. If this evolutionary path had continued, the croc's descendants might have ended up looking like Ichthyosaurs, air-breathing reptiles that gave live birth and looked remarkably like modern dolphins. Remember, a saltwater croc in Australia is called a marine crocodile, but it does not have many adaptations to live in the marine environment besides a salt gland in its tongue.

An Ichthyosaur is a reptile completely adapted to a marine environment.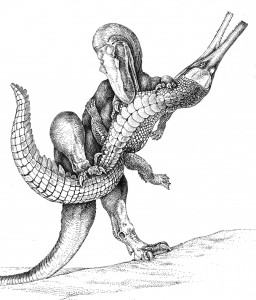 What happens when a Steneosaurus trys to
ambush an Allosaurus at the water hole
There are other crocs found in the Solnhofen limestone, including long-legged land crocs, dwarf ones, and a substantially armored one, Steneosaurus, featured by Dr. Bakker in this wonderful drawing.
To read more about the Geosaurus, check out Dr. Bakker's blog.
References:
Wikipedia:  Criosaurus , Dakosaurus, Geosaurus
A nice discussion of aquatic crocs is at  http://en.wikipedia.org/wiki/Cricosaurus
Modern croc using those teeth on a turtle: "ahmedsadat" posting on YouTube, 2008, "Crocodile eats turtle",  http://www.youtube.com/watch?v=cSKAXOFvi6c
*Salt glands – it is claimed that the skulls have a chamber for salt glands see Fernández and Gasparini, 2008, Naturwissenschaften. 2008, 95(1):79-84. Epub 2007 Aug 22. http://www.ncbi.nlm.nih.gov/pubmed/17712540
Dwarf crocs from the Solnhofen limestone, page 36 in Wellnhofer, 2009, Archaeopteryx, Icon of Evolution, Verlag Dr. Friedrick Pfeil.
All pictures by Neal Immega except the Dino/Croc fight which is by Dr. Bakker.