Imagine taking a huge bite into a juicy lemon.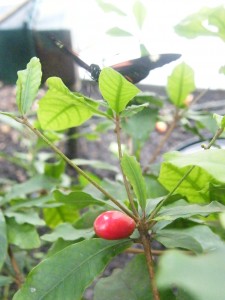 Miracle Fruit
I'm sure most of you, like me, cringe at the thought. But, instead of lip puckering bitterness imagine tasting a very sweet lemonade flavor. I know it sounds crazy, but this is the effect that miracle fruit (Synsepalum dulcificum) has on your taste buds. It is a small red fruit that, when chewed, tricks the tongue into perceiving any sour or bitter foods as sweet. The effects last from 20 to 40 minutes, and essentially turns your tongue into one giant sweet taste bud.
Miracle fruit is from West Africa, and was traditionally eaten before meals to make sour porridges and soups more palatable. The plant itself is a very slow growing shrub that reaches a mature height of between 10 and 20 ft. With minute white flowers that turn into red fruits when ripe, they are about the size of an oval cranberry. The fruit contains a protein called miraculin that is thought to bind to the sweet receptors on your tongue, rewiring them to react to sour flavors instead of sweet.
Miracle fruit has been known to the western world since the 18th century, and in the 70's there was an attempt to market it as a low calorie alternative to sugar. But it was classified by the FDA as a food additive, instead of a sweetener, which caused it to be lost in years of testing and red tape. Many believe that the decision by the FDA to classify it as a food additive was heavily influenced by the sugar industry, for fear that a healthier natural sweetener would affect sugar sales.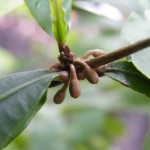 Unopened Flower Cluster
Scientists are currently researching a more promising future for miracle fruit as an aid to cancer patients, who complain that the chemotherapy causes regular food to taste bland or metallic. However, more testing needs to be done and this may still be a few years from reality.
Today miracle fruit is enjoyed at "taste-tripping parties" where everyone is given a miracle fruit upon arrival. The party-goers then chew the nearly flavorless fruit for about a minute, making sure the juices coat their tongues, and then the party begins as they make their way down the "taste-tripping" buffet. Foods usually found at these parties include cheeses that now taste like cheesecake, Tabasco that tastes more like honey barbecue sauce, apple cider vinegar that tastes just like apple juice, bitter beers that taste like milk shakes and of course lemons that now taste like sweet lemonade.
I have personally tried this fruit on several occasions and can tell you, its name does not lie. It is a very unique and miraculous sensation to eat something that your brain knows to be sour, but all you can taste is sweet.
For anyone interested in trying this strange experience, miracle fruits can be purchased at many different sites on the Internet. Or if you would just like to see one of the plants up close and personal, you can stop by the Cockrell Butterfly Center and see our miracle fruit bush, which is currently in bloom.