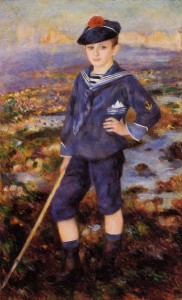 Jeune garcon sur la plage d`Yport
from the Barnes Collection
Recently I saw the documentary The Art of the Steal which delves into the complex situation of the Barnes Foundation art collection.  I'll leave you to your own opinion about the byzantine details of this art furor and the documentary it has engendered.  However, the controversy does bring up broader issues concerning collections (both private and public), how they are presented or used and how they are cared for and preserved.  Entire books could be written about these topics but I'll just cover a few basics from the registrar's point of view in this blog post.  None of which will be about art.
First, let's go over the difference between a private collection and a non-profit institutional one.  Most private collections are amassed by a single person or perhaps a family.  As long as they adhere to legal restrictions these collectors can add, remove, change, exhibit, loan, donate or sell the objects in their collection.  After all, as long as they hold legal title to the collection, it's their personal stuff.  Collectors decide who gets to see their collection, and when, where and how the collection is seen.  Collectors are both owners and curators of their collections.  But, aha, when a collection is held by a public or private non-profit institution such as a museum or university there are far more standards to uphold.
For this blog post, let's narrow down the non-profit institutional collections to just those held by American Association of Museums accredited non-profit museums, such as HMNS.  Care of these collections adheres to guidelines set in a Collections Management Policy, or CMP.  A CMP will define the museum's collection which usually supports that museum's mission.  You'll also find guidelines covering the way objects are acquired into the collection and how objects are, on very rare occasions, transferred out.  As you can imagine there are all sorts of legal and ethical standards that must be met.  In natural history collections there are multitudes of international, federal, and state laws concerning acquisition and ownership of specimens and artifacts.  Some of the most well-known laws are the Endangered Species Act and The Native American Graves Protection and Repatriation Act.  Museum collections must be in compliance with all of them.  Board members and museum staff must follow strict ethical standards concerning collections management, particularly in acquisition, valuation and that rare transfer of collections objects.  For example, museum staff are not allowed to give appraisals of objects.  A curator can authenticate an object but cannot place a dollar value on it, especially if that object is going to be donated and the donor wishes to receive a deduction from the IRS.  There are all sorts of potential controversies that can arise and museums always want to keep the public's highest regard and trust in them.
An example of a museum's collections.

photo credit: limako
That brings us to another difference between private and museum collections.  Nearly all museum collections are held in the public's trust, which means that museums must always do what's best for their collections in fulfillment of their mission statement.  Museums cannot willy-nilly acquire inappropriate objects or get rid of something valuable just because the market for it is hot.  Private collectors can buy and sell as they wish; museums have far more constraints and rightfully so.  When it comes to loans, a private collector isn't going to lend thoughtlessly but still the decision is their own.  Museums have many procedures and documentation to go through before making or receiving a loan.  The decision of whether or not to lend, who or where to lend, under what conditions and for how long are thoroughly vetted, again according to policy, by curators and usually with opinions from conservators and/or collection managers as to the object's condition.
Storage and care of a collection can differ between private owners and museums.  Obviously, any owner of a collection is going to do their best to care for the objects, but a private owner isn't legally or ethically required to do so.  So while a private owner could keep a priceless historic specimen in a dusty non-climate controlled storage shed (again it's their personal property), a museum can't.  Museums are obligated to do the best they can within their means to protect and preserve the collections that they hold in the public's trust.
When it comes to exhibiting objects, a private collector can build or rent an exhibition space if they so choose and present the objects in whatever fashion pleases them.  Permanent and temporary museum exhibits require stringent climate, light and security conditions so that the objects are kept as safe from damage as possible.  Museum curators put a lot of time and research into their exhibits, often re-interpreting familiar objects with recent discoveries in their curatorial field.  Especially at HMNS, we want our patrons to have the most current validated scientific knowledge, so even a 'permanent' exhibit will be up-dated and refreshed from time to time.  (Once our new expansion is finished you'll see quite a lot of this.)  My point here is that museum exhibits are less likely to remain static and more likely to continue to evolve.  A museum curator puts their own stamp on an exhibit's context and objects but probably not forever.  A private collector need never change the context or viewpoint of their personal collection exhibition.  Neither way of exhibiting objects is right or wrong, just different.
Well, this post has barely scraped the surface of all the complexities concerning museum collections.  And surely there will continue to be controversies in the public and private museum world, whether inadvertent or malicious.  But I hope this post reassures the reader that museums do hold high legal and ethical standards and work very hard to keep them.