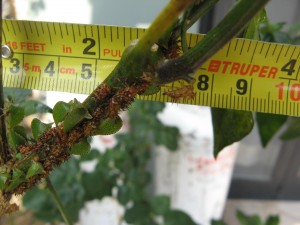 Photo submitted by Alex
Last week we got an interesting photo from a man named Alex in Guanajuato, Mexico. At first glance it looks like a stem with green thorns and some really weird, spiky, alien-looking bugs. The "green thorns" are actually insects that often get dismissed as, well, green thorns! These little guys are called treehoppers and they are everywhere, constantly being overlooked because of their excellent camouflage. They belong to the order Homoptera, which is notorious for containing almost all of the worst plant pests, including everyone's favorite, the aphid! This order also includes interesting, non-pest insects like the cicada and the masters of disguise, treehoppers and leafhoppers. Most entomologists today lump the order Homoptera with Hemiptera, or true bugs such as stink bugs, leaf-footed bugs, and assassin bugs. I, however, think they're different enough to have their own group.
So, as I said, most treehoppers are not considered pests except for a small handful, including this little guy, the Keeled Treehopper (Antiathe expansa). They are known to attack plants in the family Solanaceae – especially tomatoes, eggplants and chile peppers. Alex found these guys all over his chile plant! In large enough numbers, they can seriously injure and even kill these plants. The problem is that, unlike more efficient insects like butterflies, beetles and flies, the young nymphs and adults eat the exact same thing. They use a sharp beak to penetrate the tissues of plants and suck the sap. All homopterans feed this way and that's why so many of them cause damage to plants. All of this sap eating causes these insects to excrete a sugary liquid called honeydew which ants go crazy for! The ants will "milk" the honeydew from the homopteran and in return for the yummy snack, protect them from other predators. For example, ants who farm aphids for honeydew will keep the hungry ladybugs at bay to protect their precious nectar. For this reason, ants are very often associated with homopterans.
So, what are the little spiky, weird orange guys? You guessed it, the nymphs! Very often, treehopper nymphs will look very different from the adults, but as time goes by, with every molt, they will lose their spines and start to resemble the green thorn-like adults. Treehoppers come in a wide array of fascinating and even downright bizarre shapes and appearances. Those found in the tropics are a bit larger and sport vibrant colors and odd protuberances unlike any other insects. Next time you are out and about, look a little more closely, and you're sure to spot them!
Remember, if you find an odd looking bug and would like to know what it is, snap a picture and send it to us at blogadmin@hmns.org. Happy bug watching!