Our Archaeopteryx show has bedazzling fossils – the only Archaeopteryx skeleton in the New World, complete with clear impressions of feathers. Plus frog-mouthed pterodactyls, fast-swimming Sea Crocs, and slinky land lizards.
But wait…….there's more!
The exhibit has spectacular Jurassic fish!
By "spectacular" I don't mean gigantic. Most of the Jurassic finny species were small to mid-sized, salmon to tuna in bulk. The extraordinary thing about our Jurassic fish is that the fossils capture the single most dramatic moment in all of fishy evolution….
….The Teleost Takeover!!
Teleosts are the unrivaled Rulers of Fish-Dom. Teleosts make up three-quarters of today's fish species. When you eat fish, chances are you're eating teleosts: tuna are teleosts, and so are mahi-mahi, swordfish, bluefish, salmon, red snappers, trout, bass, eels, herring and anchovies…
Gefilte Fish?  Yep. Teleost. So are white fish, smoked or non-smoked. Sail fish, tarpon, guppies…..
Teleosts belong to the "Bony Fish Clan," one of the two huge branches on the fish family tree. The other big branch is for sharks, rays and skates.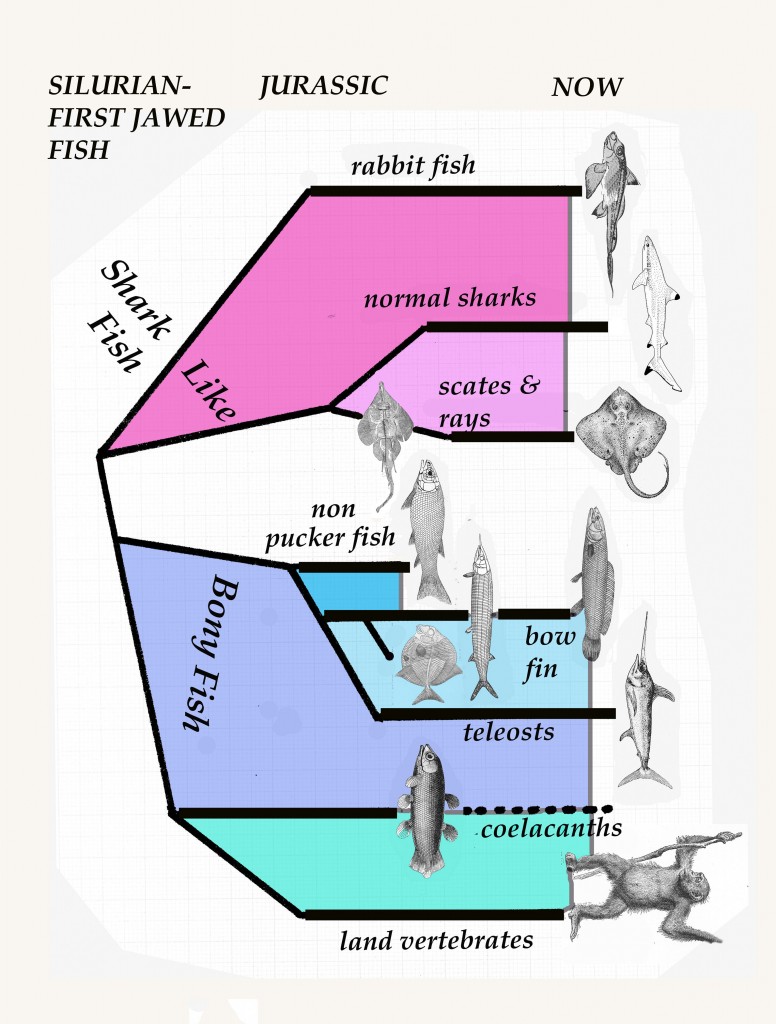 Pucker Faces
What makes teleosts so great? Pucker skulls. Go to an aquarium or a really big fish store. Watch the feeding. Teleosts protrude their faces, pushing out the jaw bones so the mouth cavity expands. Water rushes in, carrying food. Large mouth bass expand their mouths so wide they can suck in an entire duck.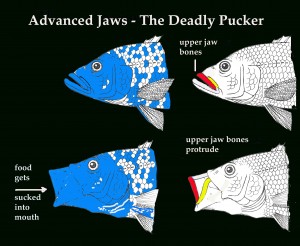 Teleosts can use their pucker faces to reach out and nibble. Parrot fish do that when they gnaw away coral polyps. Catfish use their suction-mouths to vacuum worms from a muddy bottom. Remoras use their pucker-sucker mouths to get a free ride from a big shark.
Ok – all fish anatomists (people who dissect fish, not guppies who get PhD's) agree: the pucker-swing-out, expanded face & jaws is the key innovation that opens the door to thousands of potential ecological niches.
Pucker Free Times
It wasn't always so. The first bony fish comes in at about 400 million years ago. For the next 200 million years, there was no puckering. Jaw bones were firmly attached to the rest of the skull. Today, we have one Texas fish that still is no-pucker – the garfish. It grabs prey the way a gator does, with a simple snap.
First Tentative Pucker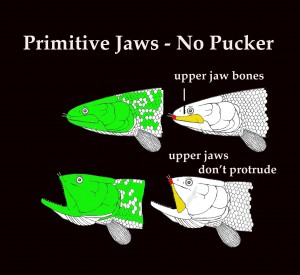 In Triassic times, about 220 million years ago, some bony fish evolved a semi-moveable set of jaw bones that let the mouth expand sideways. Bowfins today are at this stage of evolution. Our Jurassic fish show has some nifty bowfin fossils.
Teleost Shock Troops
Bowfins didn't go far enough. In the Late Triassic and Jurassic the first teleosts evolved. Face and jaw bones became mobile. Sucker-pucker faces started to diversify. That's just the stage we catch in our Archaeopteryx display. The Late Jurassic lagoon beds from Solnhofen, Germany, abound with this first wave of teleosts. Don't take my word for it. Come close to the glass cases with Thrissops, Pholidophorus and other early teleosts. Check out the jaws.
Teleosts would continue to expand into the next Period, the Cretaceous, and the through the following Age of Mammals.
so…..come to the Archaeopteryx show for the feathers…stay for the fish-faces.