Here's the skull and life portrait of the carnivorous dinosaur Ceratosaurus, from the Late Jurassic of Colorado, Wyoming and Utah.  It's the only meat-eater with a tall, sharp-edged horn on its nose.
(And it's my very favorite dino of all time – isn't it just lovely?).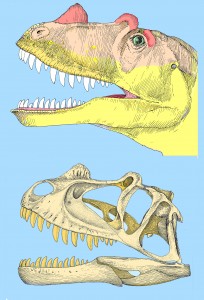 Check out the holes in the skull and the organs that fill the holes in life.
The nostril is no surprise, it's the oval slit up front.
The eye is in the third big hole from the front.
The very big hole between nostril and eye is for the complex air chambers connected to the throat – birds have these chambers too.
The triangular hole behind the eye was filled with jaw muscle.
The eardrum was located far aft, behind the muscle hole, tucked under a little ledge made by the skull.
Who had a stronger bite, Ceratosaurus or Tyrannosaurus? Compare the size of the holes for jaw muscles……..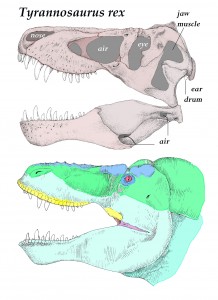 Interested in learning more about dinosaur skulls? Check out my previous blog.