Last month we had a great question about what was inside a dinosaurs head. Today, we look at a dinosaur skull and answer "What are all those openings in the head for?"  Dino skulls do seem totally, wholly hole-y.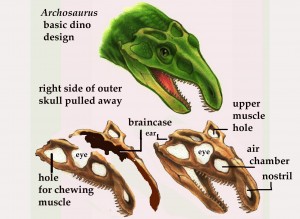 Check out our exploded Archosaurus head. The appearance in life is at the top – we don't really know the color but this fellow had to hide in the bushes, so we painted him green. Archosaurs is INCREDIBLY important in dino evolution. He's way ancient – from the latest Permian Period of Russia, about 248 million years ago.
The holes in the Archosaurus head are the clues to how it and its close kin were about to evolve into genuine dinosaurs. There weren't any true dinosaurs in the Late Permian – that would come later, in the Late Triassic, about 220 million years ago. But the basic proto-dino head architecture had been fixed in Archosaurus.
Some holes are easy – the nostril is at the front. The eardrum was in a little notch at the back. The eyeball was in the big oval hole, second hole from the rear. Now for the good part…..
….there are two big holes for jaw muscles behind the eye, one low on the side, the other high up on the top. These jaw-muscle holes are temporal fenestrae – they mark a huge clan of critters that include lizards, snakes, crocs and dinosaurs. We mammals have only one hole on each side, low on the skull.
But wait, there's more: between eye and nostril  in Archosaurus is a big aperture that you WON"T find in a mammal,  a lizard or a snake. It was packed with a special air-chamber connected to the throat and lungs. When Archosaurus breathed, air went around through these chambers, keeping the head cool.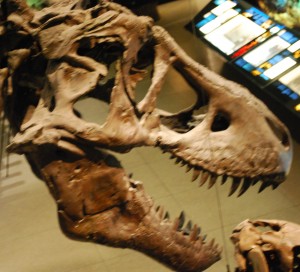 Many Early Triassic creatures, descendants of Archosaurus, carried these holes, and so did early crocodilians. We call the snout-hole group "Ruling Reptiles" which in Latin is "Archosauria." Archosaurs took over the land ecosystem during the Triassic, monopolizing the roles of large predator and large herbivore. There was something in that head design that gave Archosaurs a competitive edge.
Then came dinosaurs. All early dinos had the same blueprint – two muscle holes behind the head, one big air-chamber twixt nose and eye. Don't take my word for it. Go to our galleries and find the holes in our T. rex. You'll find the same layout in stegosaurs and raptors, duck-bills and ostrich dinos.
That's the end of the first hole lesson. Do your homework. Find photos of dino skulls and label the openings.