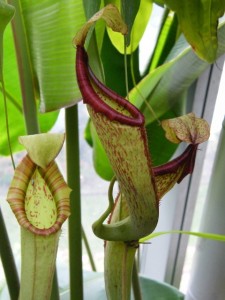 Nepenthes miranda at the CBC
I was watching Life on the Discovery Channel, and was happy to see that their special on plants talked quite a bit about carnivorous plants and how they have evolved. I find it fascinating that even in areas where plants are unable to get the nutrients necessary for life from the soil, some species have found a way to flourish by evolving specialized means of catching prey to supplement their nutritional needs.
One plant family in particular that has developed a specialized method of catching prey is the Nepenthes, also known as the tropical pitcher plant family. Shown in the picture on the right, they use their extravagantly colored pitchers, along with nectar glands on the underside of the pitcher lid, to attract insects, who then fall in and are quickly digested by the plant. Although insects make up the majority of the Nepenthes' diet, they have also been known to digest reptiles and small mammals such as mice and rats.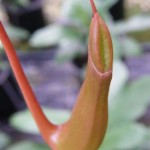 Unopened Pitcher
Nepenthes are native to the Old World tropics, specifically the Malay Archipelago, and have their highest diversity of species in Borneo. They are typically liana-forming plants that climb in the trees and have a very shallow root system, making it hard for them to take up the nutrients they need to survive. So, over time the pitcher plant has developed what is called a pit-fall trap at the tip of each leaf.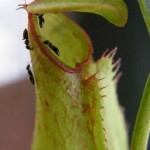 The Trap is Set
It is believed that the characteristic pitcher started out as a simple curl at the tip of the leaf which collected dead leaves and insects, and over many generations has turned into the pitchers we are so fascinated with today. The pitchers form at the tip of each leaf, and once mature, the lid of the pitcher, or operculum, opens to begin catching it's prey. The newly opened pitcher is already filled with a syrupy liquid, made by the plant, which is a combination of water, a biopolymer (to help trap and drown the insects) and digestive enzymes that are acidic enough to digest a large fly in a matter of a couple days. The pitcher walls are also coated with a slick wax, and sometimes a grooved pattern that makes it nearly impossible to escape.  One species, Nepenthes bicalcarata, has even developed fangs on the under side of the pitcher lid to snag any would be thieves trying to steal their daily catch.
If you would like to see some of these amazing plants up close and personal, come by and see the newly added Nepenthes display inside the Cockrell Buterfly Center rainforest. We have three varieties – Nepenthes miranda, Nepenthes ventrata and Nepenthes merrilliana, and if you're really lucky you may catch these fascinating pitcher plants at feeding time!