The question to answer is did dino-raptors live and hunt and feed in packs, like wolves?
I'm biased. I worked on the movie "Jurassic Park," consulting with the special effects artists. And the book "Jurassic Park" has references to my research.
And…my first dig was excavating raptors near Bridger, Montana, in 1964. I was a freshman. Grant Meyer was the Field Boss – a fine fellow with delicacy of touch that was surprising in such a hulking physique.
Grant is the guy who really started "Jurassic Park."
It was Grant Meyer who found the raptor Deinonychus, four of them, their bones intermingled in a thin layer of dark gray clay-stone. He directed us kids in extracting the bones. Back at Yale, another undergrad, Peter Parks, cleaned the rock off the bones. Professor John Ostrom named the beast "Terrible Claw" – Deinonychus.
I prepared the first restoration and the temporary exhibit.
Model of a Dromaeosaurus raptor claw
Raptor Kick-Boxer of the Cretaceous
Deinonychus became a dino celebrity.  It was fast, smart, maneuverable – we imagined it as a Kick-boxer of the Cretaceous. It would leap up and slash its victims with the huge, curved hind-claw, shaped like a box-cutter.
We wondered whether the four Deinonychus were a social unit in real life. Maybe the hunted together. Since Deinonychus was close kin to Velociraptor, dug in the 1920's in Mongolia, we started calling all the similar critters "raptors."
Michael Crichton read about the Yale raptors and he got thinking: "hmmmmm…wouldn't it be cool to use genetic engineering to bring back to life…a pack of Dino-Raptors…"  His best-seller "Jurassic Park" was the result. In his book, he called Deinoncyhus a species of Velociraptor (they are close).
CSI of Multiple Victims.
But how can we be sure that the four raptors lived and hunted together? Perhaps these four raptors lived separately, died separately, and then their bodies got washed in together. How can we be certain that the way fossils are buried truthfully preserves the way they lived?
We can't.
Here's a Fundamental Rule of paleontology: all species tend to leave their dead bodies in clumps. Whether or not they hunted together, extinct animals get buried together.
Example of Non-Pack Mass Burial

We're digging in north Texas now, excavating the first specialized top predator that ever evolved – the Finback Dimetrodon. It's 170 million years before Deinonychus. Dimetrodons had very small brains, slow legs, and certainly were not  nearly as quick witted or quick legged as a Komodo Dragon Lizard of today.
Lizards don't make wolf-packs. We wouldn't expect Dimetrodon to make well organized social units.
But we find them buried in clumps. In one quarry there are fossils from at least 500 Dimetrodons. Maybe 5000…we find hundreds of bones from scores of Dimetrodons all mixed together at dozens of spots within the quarry that is about 200 yards long.
There are babies, adolescents, young adults, and old Dimetrodons all piled on top of each other – in fifteen separate layers.
And…..DIMETRODONS WERE CANNIBALS!!!!!!
Here's the proof:
What we look for is ballistic evidence. First, we search for clues that victims were dismembered and gnawed – we want to find marks on bones left by carnivore teeth.
Second, we want fossil bullets. Bullets are the tooth crowns shed by meat-eaters as they fed. Like crocs and sharks today, dinosaurs and primitive reptiles like  Dimetrodon shed old tooth crowns as they fed. New crowns would grow in to replace the old. So…when we find many shed teeth mixed with chewed bones that's excellent CSI evidence about who ate whom.
Do our Dimetrodon bones have tooth marks? Yes!  And do we find shed teeth from  the perpetrators? Yes again.  Who's the perp? 98% of the shed teeth at our big Dimetrodon quarry are from……
….Dimetrodon!!
Dimetrodon cannibalism surprised us at first, but it shouldn't have. It's Standard Operating Procedure today. Meat is hard to come by and most carnivore species won't turn up their noses at a meal of their own kind.  Lions eat lions. Wolves eat wolves. Hyenas will eat everybody.
Our mega-Dimetrodon quarry was different from the Four Raptor Site. The Dimetrodons included babies, adolescents and adults. And a dozen other species were buried with the Dimetrodons, including big and small herbivores, insect-eaters, fresh-water sharks, and bottom-living aquatic amphibians shaped like salamanders.
We don't know yet what killed our Dimetrodons. We don't know why so many carnivores came to one spot – maybe they were attracted to amphibians who were trapped in a pond that was drying up. But it's perfectly natural that the Dimetrodon survivors would gobble up the Dimetrodon victims. Cannibalism is just common sense.
Back to the Four Raptors……
Did dinosaur predators feed together?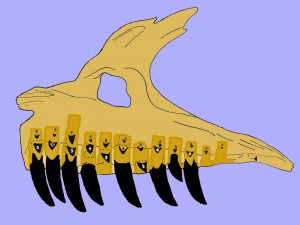 X-ray of an allosaur upper jaw showing the
new tooth crowns growing inside
the tooth sockets
I've dug several Jurassic spots with shed teeth from carnivorous allosaurs. These Jurassic sites show that the allosaurs were cannibals but still may have been good parents. We dug a spot with heaps of giant, multi-ton prey.  Herbivore bones were tooth-marked and chewed. There were shed teeth only from one species – an allosaur. Both baby shed teeth and adult shed teeth were mixed with the giant bones.
So here it looked like parents and babies did eat together – and the parents may have brought food to the young.
Five of the victims chewed by adult and baby allosaurs were….adult allosaurs. Perfectly natural – cannibalism is nature's way.
Did Deinonychus eat its own dead?
They'd be foolish if they didn't. At the Four Raptor Site there are some tooth marks on some bones and a few shed teeth. We just dug another Montana site where someone had chewed on a Deinonychus hip and left some shed teeth. The chewer was…..another Deinonychus.
Ok – no surprise to find chewed & clumped raptors. Cannibalism is Ubiquitous.  But we're not through with our Dino-CSI.  We need to analyze why the four raptors died and were buried so close together.
The Three D's of Death:
There are three big mass killers in Nature, the three big D's:
Disease. Drought. Drowning.
A long-lasting drought can kill thousands, both herbivores and carnivores. A sudden flood can drown thousands of all species. Epidemics wipe out multitudes of plant-eaters and meat-eaters.
The D's work together: A drought can kill and dry up many victims. Then, a flood can wash the desiccated carcasses into a sandbar. After disease kills many, the bodies may dry up, then get washed in together.
Did a flood drown the raptors and wash them into one spot?
No evidence for that. The water that carried in the mud was moving very slowly – it wasn't a killer flood.
And…this is important…there weren't other victims bunched up with the raptors. A major flood would wash in turtles and crocs, fish and dino-herbivores. The four raptors were alone in their burial – no other species.
There are flood sites with dinosaurs – huge river sand bar deposits with hundreds of skeletons. Usually there are many species – plant-eaters and meat-eaters. Bone Cabin Quarryin Wyoming was such a sandbar and had stegosaurs, apatosaurs, Diplodocus, camarasaurs, camptosaurs – all herbivores, adults and youngsters. And there were allosaurs and Ornitholestes, both predators.
The Four-Deinonychus quarry wasn't like that.
Did Drought Kill the Four Raptors?
No evidence here either – the habitat seemed peaceful and normal. Drought should concentrate water-loving critters – we should see crocs and turtles huddled together in the last ponds and lakes. That's not our Four Raptor site.
What Could Clump Raptors in Life?
The four raptors were all adults, one a bit older than the others. No babies. In many Jurassic and Cretaceous digs, we get adolescent predators – one of my Como digs had a half dozen young allosaurs. But not at the Deinonychus site dug by Grant Meyer.
What would concentrate four adults of one raptor species and no one else? Why didn't the young die and get buried?
Did Disease Kill the Raptors?
Disease today hits social predators hard. Since they live together, all the predators in a pack can come down with a virus or bacterial ailment together.
Age Segregation and Adult-Only Death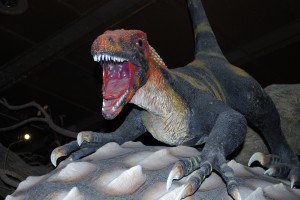 Model of a Dromaeosaurus – 
from the same family as the Deinonychus
Plus – social predators do separate the young from the adults during hunting. Group hunting is common among mammals, birds and some advanced reptiles. Crocs are the most social reptiles alive today. Nile Crocodiles do some adult-group hunting when wildebeest herds cross rivers. Several big crocs (probably brothers) gang up on the wildebeest.
Hunting groups – wolves, hyenas, lions, crocs – usually contain only adults, babies and adolescents are well advised to stay away so they won't get hurt. Therefore, social hunting is one way adults clump together and may die together.
Working Hypothesis:
Therefore….at this stage in our investigation…when we look at all the clues from the mud, current velocity, lack of babies, lack of other species…
…group hunting by adult Deinonychus Raptors is a viable hypothesis.
It's not the ONLY hypothesis but still, I think, the strongest one.