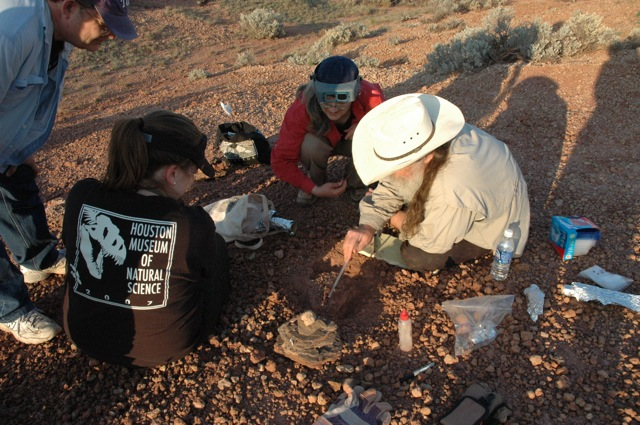 I got the chance to travel from Houston to Seymour, TX and explore the Texas Redbeds in search of fossils with David and the HMNS Paleo Program. HMNS staff and volunteers have been making these trips for four years now. They have found several excellent specimens and brought them here to prepare for our new and improved Paleontology Hall. I'd had some experience looking at the bones and things that the crew had been bringing back to the Museum but this was my first experience actually in the field – and I was pretty excited!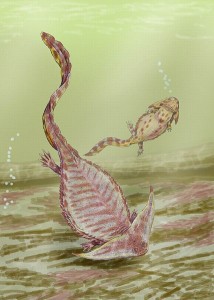 Drawing of a Diplocaulus
The first morning we arrived at the site and looked around at a few different locations before settling down in the "pit" to dig. I got to spend a little time training my eyes to see fossilized bone, teeth, cartilage and coprolites among the rocks at the "spoil pile" which is a great experience because the ratio of fossils to rocks on the surface is such that you have a pretty good chance of closing your eyes and picking up a fossil! Then we moved over to learn the digging technique where fossils were a bit more hidden in the pit; it took a few minutes to get the hang of how to hold the tools and make sure that you are using enough force to move the dirt but not so much that you break a hidden bone. All and all it was really enjoyable first day at the site.
Over the next two days after Dr. Bakker arrived we visited several other sites on the property and I got a chance to work on excavating a dimetrodon spine, map some dig sites (here's a fun school dig site mapping activity), learn about other findings like the diplocaulus or "boomerang head" skull we're looking at in the photo above. I enjoyed the opportunity to work alongside the experts and learn about all of the preparation work that is required for each and every specimen that will be in the new Paleontology hall (coming soon!) here at the Houston Museum of Natural Science. I can't wait to see everything on display in the new wing of the Museum – it's going to be so exciting!
For more information about what fossils are found at the dig site in Seymour check out some of the entries on the Prehistoric CSI blog, you can also find some really awesome illustrations on that site to bring the animals to life!