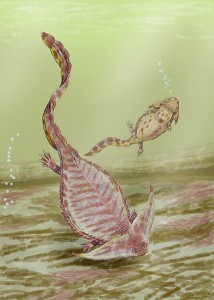 Super-sized "Boomerang-head"
amphibian from
290 million years ago
The Houston Museum of Natural Science has just excavated the complete skull of one of the most bizarre animals that ever lived – the amphibian Diplocaulus. With a head shaped like an armor-plated banana, or an Australian boomerang, this distant kin of today's salamander is so famous that it stars in most kids' books on dinosaurs – and in college textbooks as well.
The Boomerang-Head (my favorite nickname for the Diplocaulus) was only of modest size – twenty pounds live weight would be an average adult. But since the first discovery in 1878, the extraordinary cranial design has flummoxed the best paleontological minds. Baby Boomer-Heads had a normal salamander-oid shape, with a rounded snout lined with needle-sharp teeth ideal for snapping up worms on the bottom of ponds.
Weirdness entered the growth cycle as Diplocaulus approached adolescence. The rear corners of the skull grew much faster than the rest of the head, so when adulthood was achieved the head was three times wider than long. And the skull corners became pointed horn-like devices composed of thick, dense, armor-like bone material.
No species alive today comes even close.
What did Boomerang-Heads do with their strange skulls?  Theories abound. Perhaps they plowed up crustaceans hiding in freshwater ponds. Perhaps they used the heads as hydrofoils for flying in river currents. Or for staying put on the bottom during floods. The notion I favor is that the adults whacked each other during courtship battles.
More mysteries surrounded the biggest adults. Heads a foot across are common – but a few incomplete specimens showed creatures 30% bigger. Did the giants represent old males who hid in specialized habitats? Or Boomerang-Head matriarchs?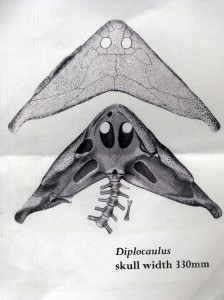 When HMNS began its long-term field survey of Red Beds near Seymour, Texas, getting  Boomerang Heads for the new Fossil Hall was a top priority. Museum crews did find many parts of mid-sized specimens. Many had evidence of being chewed up and dismembered by predators. Who ate Boomerang Heads? Teeth shed during feeding identified the culprit. It was the Dimetrodon,  a reptile close to the direct ancestry of warm-blooded mammals, including us.
No one in the museum field party hoped for a complete Boomerang Head skull of record size, until……
……Kathleen Zoehfeld, long-time museum volunteer and award-winning author of kids' science books, scouted a shallow arroyo cut into brick-red pond deposits. Boomerang Head bones were everywhere – including neck vertebrae of gigantic size. Then Zoehfeld spotted the front edge of a skull poking out of the rock. Not just a partial specimen of the sort found elsewhere but the entire head, complete from eye-sockets to horn tips.
Zoehfeld christened the specimen "Geoff" in honor of her son, a sophomore at Columbia University.
Geoff's head was 16 inches or more wide, as big or bigger than any other noted in paleontological journals. And beautifully preserved.
As soon as I saw it, my mind jumped…I could see how Geoff's skull would star in the Red Beds tableau of our new exhibit. It would make everyone, kids and adults, stop dead in their tracks and stare.
I took charge of cleaning the specimen personally. It's 90% done. Our friends at the Black Hills Institute will make casts to share with other museums.
And about those mysteries regarding giant Boomerang heads: HMNS is gathering more clues. Parts of several other giant skeletons were secured near Geoff's site, suggesting that a sort of "old Boomerang men's club" might have existed in Red Beds time. Or, alternatively, an amphibian-matriarch society.  Skulls were accompanied by evidence from the other end of the animals – beds full of coprolites (fossilized feces) that may well have been produced by big Boomerang-Heads.
We don't have the final answers. But the new finds will help. Maybe we're getting closer to understanding these wonderful critters. And the exhibit of bones and coprolites will delight the scientific imagination of museum visitors.
Donate to our Capital Campaign and help us build towards a second century of science.