Here at HMNS, we frequently offer exhibitions that showcase stunning and diverse artistry from cultures around the globe and throughout time. In working here, I'm privileged to be able to walk through each as much as I can while they are here, and absorb the colors, forms, and inspiration of thousands of years of human culture. I love design – modern, ancient, however humans have creatively assembled things. We're a science museum – but there is just so much art in science. I'm constantly fascinated by it.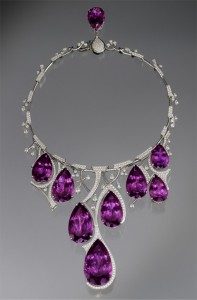 Amethyst Necklace,
designed by Ernesto Moreira;
on display in the Gem Vault.
Which was why I am delighted to share something I noticed recently – a commonality between the very modern design showcased in one of our permanent exhibitions and the design of several of the absolutely stunning works of feather art in our current Spirits & Headhunters exhibition – which, while created in relatively modern times (within the last 100 years or so) reflect a design tradition that goes back centuries – if not thousands of years.
Many of the pieces on display in the Smith Gem Vault were created by a local designer, Ernesto Moreira, specifically to showcase some of the worlds most striking and rare gemstones. Made circa 2005-2006, they were inspired by architectural elements – as Ernesto put it, "the ornamental ironwork on windows, doors, and street lights, so prevalent in European cities," which he has spent many years observing, sketching and photographing.
In contrast, the unique feather art of the Ka'apor tribe is some of the most beautiful and delicate ornamentation produced in the Amazon. Produced for ceremonial use – and then discarded – these objects are created in two sets: one specifically for men, the other for women. The tukaniwar shown below is a "spectacular neck ornament," made for women from "mythologically harmless bird feathers…the blue color connects the wearer to the sky where all the culture heroes dwell."  (Check out the exhibit catalog for more info.)
As you can see from the image, there are blue feathers woven into the ornament that would have hung in the front – as well as the smaller ornament that would have hung in back, once the necklace was tied.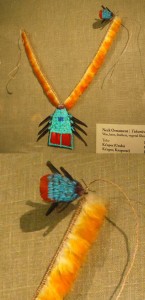 tukaniwar, on display in
Spirits & Headhunters
It would seem that these two objects – created by artists from very different cultural traditions – would have nothing in common. However, the hanging feathered ornament is extremely similar to the small jeweled ornaments that Ernesto designed into the clasp of his pieces in the Gem Vault (if you haven't been in the Vault yet – trust me, you're going to want to check it out in person).
I wondered if there could possibly be a connection – and when associate curator for Amazonia Adam Mekler was here to install the Spirits & Headhunters exhibition, I asked him. Sure enough – it turns out that Moreira had worked with Mekler many years ago when parts of this collection were first on display.
Pretty amazing coincidence, to be sure – but I had to find out if there was any merit to the theory that one had influenced the other. (This *is* a science museum, after all.) Here's what Ernesto had to say: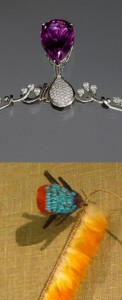 " I can tell you right away Adam's pieces did not have an immediate direct impact on my work. That said, I have noticed a pattern in the way my brain works in regards to creativity. When I was a teenager, I looked at Japanese prints and architecture… then in my early twenties I made a collection of one of a kind pieces called little people. One time during a solo Gallery show the entire collection sold out. The gallery owner told me it was sold to mainly Asian customers. Sometime later…I realized how Japanese my pieces actually were… in their geometry and their compositional balance. Most recently during the making of the museum Gem Vault pieces I began to adorn the settings with filigree… but not just the normal filigree… a more architectural version. This time it did not take me long to figure out that, once again, I was translating many of the images in my head into my jewelry designs since I had spent many years sketching and photographing much of the ornamental ironwork on windows, doors, and street lights, so prevalent in European cities (something I still do). So it seems I work best absorbing and letting be, then somehow, sometime the subject matter reappears in my work. I worked with Adam Mekler and his incredible Amazonian collection during many years and for months at a time I would handle these amazing works… absorbing as usual. I doubt that such resemblance between the indigenous works and my own are purely coincidental, yet I cannot claim an intentional link." [emphasis mine]
So, not an intentional connection – but I was pleased to discover such a link between ornamentation designed by these two very different artists and cultures. It's fascinating to see how artists are inspired and how very different cultures can influence one another, sometimes in seemingly random – but very delightful – ways. It inspires me to take a closer look at everything around me, in the museum – but also out in the world. Part of the joy in seeing real artifacts, up close, is having the opportunity to examine them for these little details that allow you to really experience the object first-hand.
So, how about you – what little things have you noticed about the world?
The Lester and Sue Smith Gem Vault is a permanent exhibition at HMNS – but you only have a few more weeks to see Spirits & Headhunters before the exhibition moves on. Don't miss it! Before you come, you can learn more about these fascinating cultures in a preview video interview with curator Adam Mekler below.
Can't see the video? Watch it here.