While the vast majority of my posts have dealt with adventures from the trenches (of fieldwork), I've recently been involved in a simple research project that ended up being quite interesting from the perspective of museum history.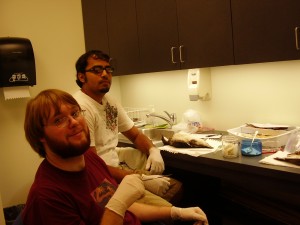 Interns Tim McSweeny (L) and Raoel Sheik (R)
preparing study specimens

In prior blogs I've posted how we obtain some rather unusual specimens from Wildlife Rehabilitators.  One of our principle 'Rehabbers' is Dana Simon who has brought us a number of sea birds and raptors, among other goodies.  Today's story began in the late Summer of 2007, when Dana was brought a 'different' looking gull that she was unable to identify to species.  If Dana's charges perish, she is kind enough to save them for us in a large freezer until she has enough worth making a trip in for.  Now you crazy kids don't try this at home, Dana runs a fully permitted and licensed facility.
Nearly a year after the gull was initially found dead of an unknown ilnness on Surfside, it was brought to us here at the museum.  It was prepared here as a study skin by one of my interns, Tim McSweeny.  Once we get several study skins together, ready to be catalogued into the collection, I will identify some of the more challenging individuals as part of a Curator's duties.  This gull was rather difficult to identify, but after much comparison with other species, I was able to determine that it was a female Sabine's Gull (Xema sabini) in non-breeding plumage.  It was definitely worth writing up as a published note, as there were few (if any) specimens of Sabine's Gull from the Texas Coast.  Although sight records do exist, a museum voucher specimen provides irrefutable evidence of the species' occurrence.
I then contacted Dr. Keith Arnold at Texas A&M University.  Keith was my Major Professor for my Ph.D. work over a decade ago, and we often collaborate on anything I publish involving Texas birds.  'Dr. A,' as his prior students call him, is a walking encyclopedia of past and present records of rare birds in our beloved state.  Although there are 625 species accepted as regularly occurring in Texas, others such as Sabine's Gull have been taken off the review list because the number of reports are so few and far between, with fewer than four reports per year over a ten year average.  Keith told me there had been one specimen prior to this one and it was housed in the Natural History Museum's (NHM) collection in England.
Although the NHM proper is located in London, the approximately 750,000 bird specimens are housed in a huge multi-leveled building approximately an hour northwest of London in the quaint market town of Tring in Hertfordhsire.  I know this because I visited there nearly 15 years ago when collecting data for my dissertation from various museums around the globe.  At the time I visited Tring, I was pleased to meet the acquaintance of a kind gentleman by the name of Dr. Robert Prŷs-Jones.  Robert was kind enough to help me navigate through the hundreds of cabinets to find what I was after during my visit.  We hit it off just fine, so I was hoping he wouldn't mind if I bugged him to gather some information about the Sabine's Gull specimen in his care at the collection at Tring.
Well, I began to get a little nervous when I didn't receive an immediate reply from Robert with the news.  I then received an enthusiastic and lengthy reply from him a couple of weeks later in early October 2008.  He did indeed remember me and explained the reason it took him a couple of weeks to reply is because although he had located the specimen, it proved a bit baffling and he had to do some research to figure it all out.
Robert had been working with various colleagues such as Dr. Pam Rasmussen on a scandalous affair that involved fraud and the theft of specimens from NHM's collection, among other places.  The culprit was one Col. Richard Meinertzhagen, who was a giant in the field of Ornithological expedition and discovery during his heyday in the early 1900's.  At that time Meinertzhagen was well known as a respected Ornithologist with a large private collection of approximately 20,000 specimens.  His falsification of specimens and their respective tags that contained important data was first published on by Clancey (1984) although Knox (1993) was the first to publish a serious analysis of the scandal.  Later on, during research to write a guide to birds of southern Asia, Pam realized that Meinertzhagen's fraud was actually much more extensive than originally discovered.  It was then that Pam collaborated with Robert to systematically describe the extent of his fraudulent ways, using the specimens they were able to uncover through careful research.
Apparently the case of the Sabine's Gull at NHM was one of the more blatant examples of the Meinertzhagen scandal.  To quote part of Robert's reply to me:
[N]ormally he covered his tracks slightly better by removing the original collector's label and changing dates/localities; it is also interesting to have proof that he might change "collector" details in a case where he was not claiming to have collected the specimen himself.  This case is so blatant that either he didn't realise the rarity of the species in Texas or he's putting two fingers (one in the US?!) up to the ornithological community and saying "[I]f you cannot catch me on this, what can you do?"
So alas, Robert came to some important conclusions, that this gull in the NHM collection was one of the more blatant of many examples of fraud by the late Richard Meinertzhagen.  He kindly recommended we collaborate to publish the information, which now has been accomplished, and if you're so inclined, you can read it here.
– DB, 1/14/10
Post-script: Kind thanks to Robert Prŷs-Jones, Pam Rasmussen and Keith Arnold for reading and providing comments on the text.