The Houston Museum of Natural Science was founded in 1909 – meaning that the curators of the Houston Museum of Natural Science have been collecting and preserving natural and cultural treasures for a hundred years now. For this yearlong series, our current curators have chosen one hundred exceptional objects from the Museum's immense storehouse of specimens and artifacts—one for each year of our history. Check back here frequently to learn more about this diverse selection of behind-the-scenes curiosities—we will post the image and description of a new object every few days.
This description is from David Temple, the museum's curator of paleontology. He's chosen a selection of objects that represent the most fascinating fossils in the Museum's collections, that we'll be sharing here – and at 100.hmns.org/ – throughout the year.
Seed fern, Alethopteris grandini
(Pennsylvanian, Stranger Formation, Franklin County, Kansas)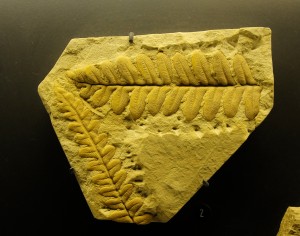 Vast swamps covered many parts of the world during the Pennsylvanian Period. The plants that grew in them included ferns, seed ferns, rushes, and tree-like lycopods with scaly trunks. When these plants died, they settled into stagnant, oxygen-poor water, in which their carbon was eventually preserved as coal. Among these coal swamps lived many kinds of amphibians, the first small reptiles, many types of insects and other arthropods such as large cockroaches, giant dragonflies, millipedes and scorpions.
Wander among prehistoric beasts in the Paleontology Hall, a permanent exhibition at the Houston Museum of Natural Science.
You can see more images of this fascinating artifact – as well as the others we've posted so far this year – in the 100 Objects section at 100.hmns.org.