The Houston Museum of Natural Science was founded in 1909 – meaning that the curators of the Houston Museum of Natural Science have been collecting and preserving natural and cultural treasures for a hundred years now. For this yearlong series, our current curators have chosen one hundred exceptional objects from the Museum's immense storehouse of specimens and artifacts—one for each year of our history. Check back here frequently to learn more about this diverse selection of behind-the-scenes curiosities—we will post the image and description of a new object every few days.
This description is from Nancy, the museum's director of the Cockrell Butterfly Center and curator of entomology. She's chosen a selection of objects that represent the rarest and most interesting insects in the Museum's collections,that we'll be sharing here – and at 100.hmns.org– throughout the year.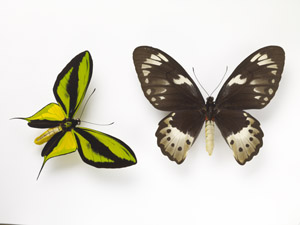 Paradise Birdwing – Ornithoptera paradisea
The birdwing swallowtails from tropical Asia are some of the largest, most spectacular, and most endangered butterflies in the world.  All show high levels of sexual dimorphism (i.e., males and females are different in size and color).  Female birdwings are larger and much duller in color than the males, which come in glowingly iridescent colors of brilliant sapphire, emerald, and topaz.
The Paradise Birdwing was first discovered in the 1890s in New Guinea.  While the female Paradise Birdwing (right photo) looks much like females of other birdwing species, the male (left photo), with its dwarfed and unusually shaped hindwings, is very distinctive.  As a result, this species is highly prized and (as are many other birdwings) protected by law.
HMNS has a large number of birdwing specimens, acquired through the "paper trade" (i.e., specimens reared specifically for collectors) before many of the protecting laws were enacted.  It would be much more difficult today to acquire many of the species in our collection.
Learn more about moths and their relatives in a visit to the new Brown Hall of Entomology, a part of the Cockrell Butterfly Center– a living, walk-through rainforest at the Houston Museum of Natural Science.
You can see more images of this fascinating artifact – as well as the others we've posted so far this year – in the 100 Objects section at 100.hmns.org