The Houston Museum of Natural Science was founded in 1909 – meaning that the curators of the Houston Museum of Natural Science have been collecting and preserving natural and cultural treasures for a hundred years now. For this yearlong series, our current curators have chosen one hundred exceptional objects from the Museum's immense storehouse of specimens and artifacts—one for each year of our history. Check back here frequently to learn more about this diverse selection of behind-the-scenes curiosities—we will post the image and description of a new object every few days.
This description is from Nancy, the museum's director of the Cockrell Butterfly Center and curator of entomology. She's chosen a selection of objects that represent the rarest and most interesting insects in the Museum's collections,that we'll be sharing here – and at 100.hmns.org– throughout the year.
Madagascar Sunset Moth – Chrysiridia rhipheus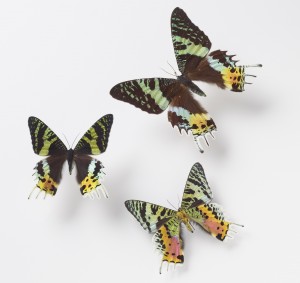 This spectacular, iridescently colored moth is considered by many to be the most beautiful of all Lepidoptera (the order of "scaly winged" insects, i.e., butterflies and moths). A day-flying moth endemic to Madagascar, it was originally described as a butterfly due to its resemblance to the swallowtails. The rainbow of colors on both upper and lower wing surfaces that make this species so sought after by collectors are not due to pigments, but result from the scattering and reflecting of light by microscopic ridges and pits on the highly curved scales covering the wings.
The museum has several hundred specimens of this moth.  It is relatively common in its native habitat, where it periodically undergoes massive one-way migrations when the hostplants for the caterpillar stage (they feed on trees in the spurge family) increase the amount of distasteful toxins in the leaves.  Interestingly, after the migration has lessened pressure on the hostplant, the amount of toxins in the leaves subsides to normal levels.  In the American tropics, a close relative, the green Urania moth (Urania fulgens), also makes mass migrations for the same reason.
Learn more about moths and their relatives in a visit to the new Brown Hall of Entomology, a part of the Cockrell Butterfly Center– a living, walk-through rainforest at the Houston Museum of Natural Science.
You can see more images of this fascinating artifact – as well as the others we've posted so far this year – in the 100 Objects section at 100.hmns.org