The Houston Museum of Natural Science was founded in 1909 – meaning that the curators of the Houston Museum of Natural Science have been collecting and preserving natural and cultural treasures for a hundred years now. For this yearlong series, our current curators have chosen one hundred exceptional objects from the Museum's immense storehouse of specimens and artifacts—one for each year of our history. Check back here frequently to learn more about this diverse selection of behind-the-scenes curiosities—we will post the image and description of a new object every few days.
This description is from David Temple, the museum's curator of paleontology. He's chosen a selection of objects that represent the most fascinating fossils in the Museum's collections, that we'll be sharing here – and at 100.hmns.org/ – throughout the year.

Brachiopod, Grandaurispina kingorum
(Permian, Willis Ranch Member, World Formation, Brewster County, Texas)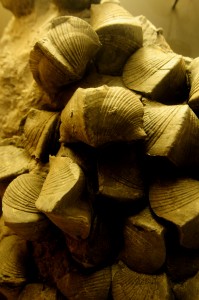 The Glass Mountains are famous for silicified fossils of Permian age, such as this Brachiopod. Unique build-ups of fossil shells, both wave-generated accumulations of dead shells and massive brachiopod-dominated reefs, produced by the complex interactive growth of millions of marine invertebrates that occur in the Glass Mountains.
Fossils from the Glass Mountains are of special interest because of their level of detail. Blocks of limestone from the Glass Mountains can be treated with weak acids to dissolve the limestone from the acid-resistant silicified fossils. This process often leaves unharmed the delicate spines and ornamentation found on some brachiopods and bivalves.
Wander among prehistoric beasts in the Paleontology Hall, a permanent exhibition at the Houston Museum of Natural Science.
You can see more images of this fascinating artifact – as well as the others we've posted so far this year – in the 100 Objects section at 100.hmns.org.