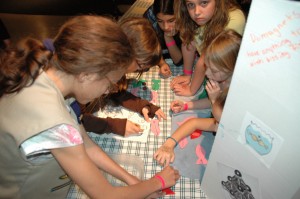 Girls Exploring Math and Science (GEMS) 2010 is looking for Girl Scouts (4th-12th graders) to host the activity booths and we are now accepting applications! GEMS 2010 is going to be held on Saturday, Feb. 20, 2010, at the Houston Museum of Natural Science. Girl Scout booths will be placed throughout the Museum exhibit halls so that visitors can learn all about the wonders of science, technology, engineering and mathematics!
HMNS has been hosting GEMS since 2006 alongside the Girl Scouts of San Jacinto Council and we have seen many really incredible booths put together by Girl Scouts! From probability games and circuit testing to optical illusions and magical mobius strips – girls can really get creative with the topics they choose to share with the crowds at the GEMS event. A really fun part of being a GEMS booth host is participating in the booth host set up event and Overnight the night before GEMS, then everyone wakes up on Saturday morning ready to roll!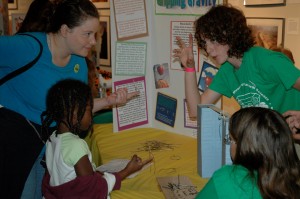 So – how can my Girl Scout troop apply to be a booth host- you ask?
It's easy…
1)BRAINSTORM: Come up with several ideas of math and science topics that seem intriguing to your group.
2) KNOW THE GUIDELINES: Download the information packet for Girl Scouts interested in hosting a GEMS booth from the HMNS website and review all of the parameters for hosting a booth. Think about the space limitations, participant requirements, etc.
3) SELECT A TOPIC: Pick which topic from your brainstorming session that will best suit the GEMS guidelines and complete the booth description part of the application — be creative!
4) APPLY! Applications are due by 5pm on Nov. 20, 2009 – that's only a few weeks away so don't delay!
Be sure to contact us if your group is interested in hosting a Girl Scout booth! Stay tuned for more information on how to join us on the day of GEMS as a visitor and visit all of the fun booths!