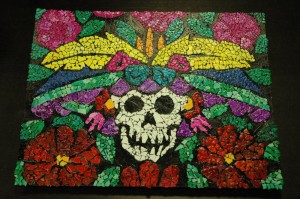 Halloween is this Saturday and everyone is scrambling to put together their costumes and figuring out what parties to go to Friday and Saturday. But what are your plans for Dia de los Muertos on November 2nd!?
The education department here at HMNS offered an encore event to last year's very popular Dia de los Muertos Educator Overnight and teachers came from all over the greater Houston area to learn about this incredible holiday and how to do some activities with their own students so that they may learn more about the culture. If you want to learn how to make sugar skulls check out this guide online – it has some great tips on how to make some incredible shaped sugar treasures!
Above you'll see an artwork that references La Calavera Catrina, an etching done by Mexican printmaker Jose Guadelupe Posada in 1913. La Catrina and some of Posada's other artwork is reproduced and can be seen around town available on book bags, t-shirts and in jewelry – especially around Dia de los Muertos. This piece pictured here is composed completely out of dyed eggshells by one of our very own hmns bloggers!
Below are some of the fun hands on activities and projects the teachers did at the Overnight this year and don't worry – we're already thinking up some cool ideas for "Dia de los Muertos II – the Overnight Sequel for Educators" – next October! Drop me a line if you want to receive notice when we start accepting registrations for this Overnight in 2010 – overnights@hmns.org.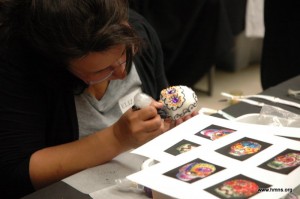 Decorating sugar skulls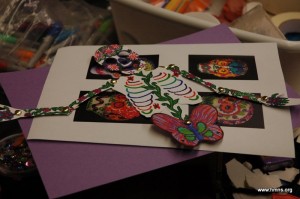 Calacas puppet in progress
Cigar box altar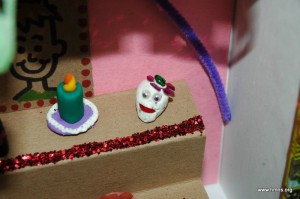 This tiny clay skull
is perfect for a tiny cigar box altar table!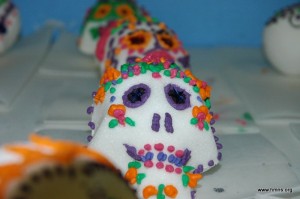 Completed sugar skulls!