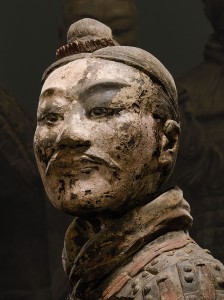 An archer with a top knot haircut
It is said you can tell a lot about a person by the clothes they wear.  Clothing speaks to us, albeit quietly, but if you know how to "listen" you can glean loads of information.  Recently, I toured our Terra Cotta Warrior Exhibit with an expert on clothing styles. She told me about all of the Warriors and what these different styles "tell" us.
She first drew my attention to the different hairstyles of the warriors.  Three distinct styles can be seen; the top knot, the coil, and the flat braid.  In the Emperor's army, your hairstyle would depend on your rank. The warrior would wear a top-knot, which is much like a bun; the higher the knot was worn on the head, the greater the number of kills made by that warrior. An officer's hair would be braided flat.  Can you tell the warriors from the officers?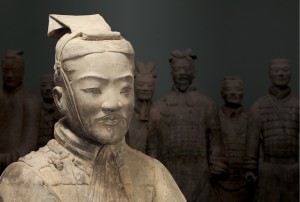 Chariot driver with cap and chin strap
The headdress also speaks volumes about a soldier.  It tells you what military branch the individual belongs to and their status.  Warriors in the infantry wore a kerchief cap over their top-knot hairstyle.  A cavalryman wore a close-fitted cap with a chinstrap made from leather.  The charioteer wore a headdress made from metal and silk with a pointy top. A general might sport an elaborate headdress in the form of a double-tailed bird.  The pheasant-tailed cap of the general speaks of his bravery and skill on the battlefield.  Can you identify the different kinds of warriors by what they wear on their head?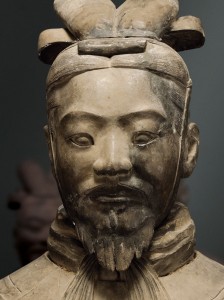 A Terra Cotta general
When considering the clothing of a warrior, you just must also check out his shoes – the longer the toe on the shoe, the higher the status of the individual.  Most shoes were made with animal hide, stitched with flax thread.  Straw was used as padding.  How many different types of shoes can you identify in the exhibit?
No well-dressed warrior would be seen without his armor, right?  Well, not exactly.  Whether you wore armor or not depended on your job.  Armor was made from plates of leather, shellacked with lacquer to give them strength.  The size of the plate indicated your importance; the smaller the plate, the higher your rank.
I hope you come by to check out the Terra Cotta Warrior Exhibit before the opportunity passes you by and if you do, I hope the warriors "speak" to you in their own amazing way!
Make sure to come back next week and check out an activity on how to make your own armor!