Check out the previous post The Clothes Make the Warrior to learn how to decipher the armor on the Terra Cotta Warriors now on display at HMNS. Then, try your hand at making your own!
Materials:
Large paper grocery sack
Scissors
Cardboard
Hole-punch
Brads
Tape
Paint (optional)
Procedure: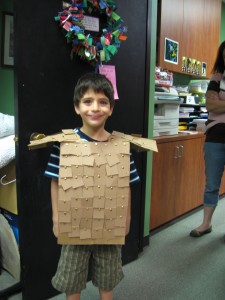 1. Cut 150 squares out of cardboard.  The squares should be 1.75 x 1.75 inches a piece.  You may cut one and use it as a template to trace the rest. 
2. Cut the paper bag into a tunic shape that can be slipped over the head.  You may have to experiment and find out what works best depending on the size of the child.
3. Cut out two rectangular pieces (you can use the left over pieces from making the tunic) and tape them to the shoulders.  These will be the guards. 
4. If you wish to paint your armor, you should do this prior to assembly.  I do not recommend painting the bag, but you can paint the square pieces.
5. Use the hole-punch to punch a hole in the top-middle of each square.
6. Starting at the top of your tunic, attach the squares one at a time by placing a brad through the pre-punched hole and then poking it through the bag.  Make sure to put the squares close together.
7. Continue this process until you have the front and back completely covered.  You may have to trim some of the squares to make them fit properly.
8. Next move onto the guards.  These are the rectangular pieces attached to the shoulders of the tunic.  Attach the squares to the guards in the same manner.  You may need a sharp object to start the holes in this area.  This should be done by an adult.
9. Slip the armor on your favorite child and have them stand sentinel!
Background:
Armor was made of small plates of leather, covered in lacquer to stiffen them.  On the top and bottom of each plate are double close-set-holes.  These plates were attached by knots of leather or thong.  Depending on the size of plates, a suit of armor could have up to 250 plates.  The smaller the size of the plates, the higher the rank of soldier.  The armor of higher ranking soldiers had more decorative straps and ribbons in a geometric pattern.  The armor opened up on the right side allowing it to be slid over the head.
Heavy infantry and low ranking soldier's armor covered the front of the torso from shoulder to waist, curving in the front.  In the back, armor went from the shoulders to the lower back.  Attached at the shoulders were shoulder and upper guards.  To allow for movement, plates at the waist and shoulder guards were loosely sewn.  This armor would be made from larger leather plates and would have no straps or ribbons for decoration.