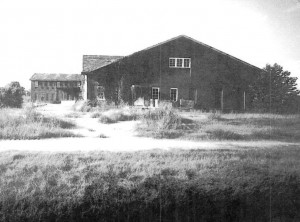 The building HMNS at Sugar Land
will occupy was built in 1939.
After the past six months, I've gained even more respect for our exhibits team at the Houston Museum of Natural Science. I've been fortunate enough to see first-hand exactly what it takes to develop a museum, formerly an old prison building built in 1939.
Like you, I usually see the exhibit when it is finished. And I have to admit, I never realized what challenging tasks the design and construction are. I thought it was like decorating your home or office. Okay, maybe not that simple, but a matter of knowing where you're going to put things, and maybe knock out a wall or two—pa rum pum pum pum—you're done.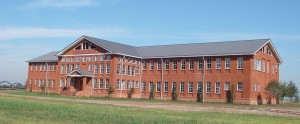 This photo was taken just a few months
before exhibit construction started
After going back and forth for a while now to visit the new museum in Sugar Land and seeing it in various stages of development, I've learned that designing a museum is more than dotting I's and crossing T's. Because of the lengthy process, my colleague Erin and I thought we could show you better than we could tell you, which is why we have been recording the entire process.
As a precursor to the opening, we thought we would show you an excerpt from the special video we are still currently producing. In this segment, you'll meet Rodney Gentry, a senior designer for the Houston Museum of Natural Science. Gentry tells us what he thought about the historical building when he first laid eyes on it, as well as some of the obstacles the team faced when the museum was in its initial planning phase of development. Plus, you'll see some past photographs of the prison back in its heyday and some photos of what it looked like when we first took a look at the space. Keep in mind, it was filmed at the beginning of this week, so the space is still transforming every day in preparation for the opening next Saturday.
It's an experience I'll never forget and one I hope you'll always remember after you view the complete documentary. Stay tuned for our release date.
Until then, click here to watch a part of the video. Also, here is the history of the Central State Prison Farm, now the Houston Museum of Natural Science at Sugar Land.