The time has finally come to close out this summer's Mixers & Elixirs series. But we're going out with a bang! End this summer right with one last steaming salsa night before summertime is gone.
 We talked to lead singer Rudy Rincon from Grupo Ka-Che to see what makes their performance at Mixers and Elixirs so spectacular.
What is the best thing about playing at Mixers?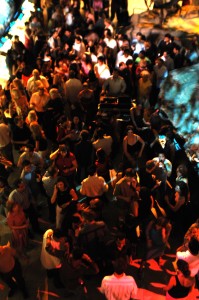 Being around the dinosaurs is definitely one of the best things. Another great aspect is being in a location that gives you the opportunity to be outside the normal standardization of a club. It is something really new and innovated that gives you another taste of both themes: a museum and a show.
How would you describe your band's overall music and performance?
We are the most energetic Latin performance in town. Our show is completely live and it is well established. We got together in '98.
What started you out in music?
We all started as musicians. We share Latin music as our connection even though we come from different countries. By communicating with the local audience we felt the need to polish and professionalize our music. Our group presents Latin music that delivers our culture as well as an exciting show for our audience.
What was it like performing under a giant dinosaur in past years?
 It was an adventure. Everyone at the beginning wasn't sure what the response would be. As a band we really appreciate the work that the museum has been putting behind Mixers. We are pleased to be a part of the most exciting events. It integrates the museum aspect as well as an opportunity for young business professionals to network, dance, and mingle.
This is your last chance to see and be seen at Mixers & Elixirs! Don't let the opportunity to salsa under the dinosaurs pass you by for another year. The party starts at 6 p.m. with our live DJ and cash bars. The dancing begins with Grupo Ka-Che at 7 p.m. Be sure to catch this fantastic night before it summer slips away.