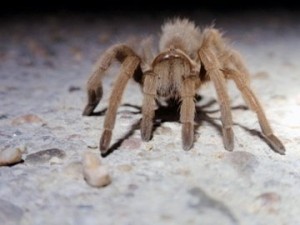 photo credit: Lary Reeves
Tarantula
Last week, I attended what is probably the best conference ever!! Well, that is if you are interested in wildlife, especially invertebrates.  The Invertebrates in Education and Conservation conference is a small gathering of people who are involved in invertebrates in some way. Most of the attendees are employed by insect zoos and butterfly houses all over the country, some are teachers, some are doctors, and some, like all of us, just plain love bugs!
The conference is held in a small town called Rio Rico which is located about an hour south of Tucson and right above the Mexican border. Located right smack dab in the middle of the Sonoran Desert, this quaint little town is perfect for spotting some spectacular wildlife; some of which can only be found in that particular habitat. The insects and arachnids are amazing, but there are also plenty of desert-dwelling mammals, reptiles, and birds to make anyone's day!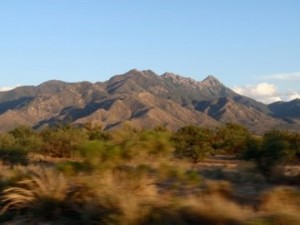 photo credit: Lary Reeves
Arizona Mountains
The conference is full of activities: workshops, field trips, paper presentations, and lets not forget the social aspect! Bug people really know how to party! But seriously, there is so much invaluable information that I get from talking to the other conference participants. I can always learn ways to improve every aspect of our facility and that's why this conference is so important.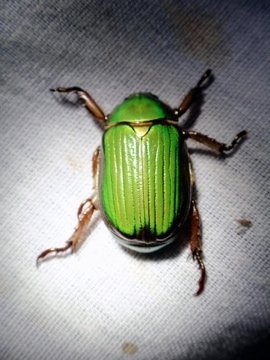 photo credit: Lary Reeves
Chrysina beetle
I was able to go on a few collecting trips as well as purchase some critters that I was not able to catch myself. I came back with some great new bugs that you will soon be able to see on display! 
I caught some gorgeous beetles including cactus longhorn beetles (Moneilema gigas), fig beetles (Cotinis mutabilis), and jewel scarabs (Chrysina sp.).  Cactus longhorn beetles are robust black beetles with very long antennae, which are characteristic of longhorn beetles. They can be found during the cooler hours of the day feeding on Cholla. This is a cactus with extremely tough sharp spines, so collecting these beetles can be a bit of a challenge. They are harmless, but somewhat resemble another black beetle called a darkling beetle. These beetles secrete a foul-smelling liquid to deter predators, so resembling them along with hiding in the sharp spines of the cholla helps to keep the longhorn beetles safe.
Fig beetles are also known as Green June Beetles and can be found here in Texas. They are, however, very abundant and easy to catch in the desert. They are active during the day and fly around, buzzing very loudly, from plant to plant. Very often, people think that a bumble bee or something similar is headed for them until the beetle lands, showing off its beautiful emerald green coloration. They love to eat over-ripe, soft fruits such as figs and peaches, hence the name!
Chrysina, or Jewel beetles are a magnificent find. There are 3 species common to the area: gloriosa, lecontei, and beyeri. They are all beautiful, but a little harder to find then the fig beetles because they are active at night.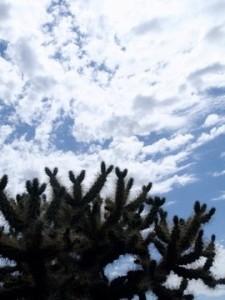 photo credit: Lary Reeves
Cholla Plant
I was also on the look out for katydids of course (my favorite!)  I brought back 1 very small nymph which I will not be able to identify until it matures. I'm very anxious to see what species it is! I was also able to get some various desert katydids, all belonging to the sub-family tettigoniinae. This sub-family is comprised of predaceous katydids. Some are active predators that will hunt and kill their prey and some are scavengers, feeding on eggs and freshly dead invertebrates. They all require plant material in their diets as well.  Out of the 6 I brought back, 2 are male sooty-winged katydids (Capnobotes fuliginosus), 2 I have not been able to identify, and 2 are a pair of Haldeman's shieldback katydids (Pediodects haldemani). I am especially excited about these two because I actually have a male and female that I would love to breed.
As you can see, this species has kind of a diabolical look to it, and since predatory katydids are known to inflict a painful bite when handled, I will be careful with this one!
It was not all fun and games for me. I went there to present a paper. I actually presented on our blog! I love to talk and write about bugs to anyone who will listen or read and it has been well received!
So, hopefully you bug geeks out there will continue to read and put Southern Arizona on your list of places to visit, you won't regret it! If you get there, be sure to visit the Arizona-Sonora Desert Museum and the Sonoran Arthropod Studies Institute (SASI). They are the ones who organize and host this wonderful gathering and they rely on our support. Well, until next time, happy bug watching!