The Butterfly Center recently acquired a new iguana.  His name is Charro (which means "cowboy" – as in "charro beans") and we believe he is between 5 and 10 years old.  For the time being, he is housed in a cage in the rainforest area.  We may eventually let him loose to wander freely in the Center, once he is thoroughly acclimated – but for now, he seems to be content (and is particularly visible to patrons) in his cage.  Keeping him confined does allow us to find him easily in order to take him outside for some exercise and sunshine on a daily basis.
We've had several free-ranging iguanas in the Center over the years.  It is a perfect place for them – much better than the situations in which pet iguanas are typically found.  Indeed, all of our resident iguanas have been pets that outgrew the space and/or time their owners could provide them.  I think it is unfortunate that these creatures continue to be sold as pets:  what starts as a cute little green lizard ends up as a small dinosaur – and most people are not prepared to handle the latter.
But as a result of all the iguanas we've had, I've learned more about them than I ever expected to know.  They are actually very interesting and personable creatures!  If you'd like to learn more yourself, read on – or check out the excellent information at the website of the Green Iguana Society.
Iguanas are in the same family (Iguanidae) as the little green or brown anole lizards we see in our gardens here in the southern USA.  The most common species available through the pet trade is the common or green iguana.  Green iguanas (the scientific name is Iguana iguana) are common in tropical areas from Mexico to South America.  In their native habitat, they often sit sunning themselves high up in trees, especially along rivers.  If a hawk or eagle flies over (both are major predators of iguanas) they will fling themselves into the river below.  They are excellent swimmers!   There are several other species of iguana, including the spiny or black iguana (also common in Central America, especially near the coast), and of course the famous marine iguanas and land iguanas of the Galapagos Islands (both species believed to have evolved from green iguanas).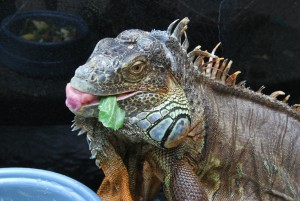 Baby iguanas are about 8 inches or so long and bright green.  But they soon get much larger, some growing to over 6 feet long.  As they mature, they lose their bright green color, and males in particular gain "secondary sexual characteristics."  People often ask about Charro's large jowls (the big lumps on either side of his head).  We like to say that they are like biceps on men – enticing to females and intimidating to other males!  The jowls, large dewlap (flap of skin below the chin), and the orangish skin color are all characters seen in mature male iguanas.  Male iguanas also develop fatty deposits on top of their head.  Mature females are slimmer and duller colored, with smaller jowls and dewlap and no head lumps.
Although much less colorful than the babies, adult iguanas can change color up to a point.  We've noticed that Charro gets darker when he is taken out into the sunshine, and lighter when he's back in his cage.  Iguanas use their color to regulate their body temperature – they darken up to absorb more heat.  An iguana's color can also indicate its mood or stress levels (sometimes their colors become more contrasting when threatened or frightened).  Male iguanas in particular become more colorful when they are in their breeding season.  The orange becomes brighter, and the black stripes on the tail, etc., more pronounced.
Iguanas apparently have excellent vision, and can see colors as well as we do.  They also have a "third eye" (called the parietal eye), a clear scale on the top of their head.  This organ senses light and dark, and alerts them to aerial predators.
Male iguanas in particular develop pointed "tubercular scales" on the back of the neck, and have a ridge of flexible spines along the back.  I have not been able to find any known function for these, beyond ornament.  Quite a few of Charro's ridge spines have been broken off, and we are not sure whether they will grow back.  Iguanas do molt their skin periodically – unlike snakes, which shed their entire skin at once, iguanas lose theirs in patches over several weeks.
Iguanas can live for over 15 years, but usually don't make it that long in the wild because other animals (including humans) love to eat them!  In fact, they are sometimes called "chicken of the trees" or "bamboo chicken." Their eggs are also eaten, and their skin is sometimes used for belts or boots, etc.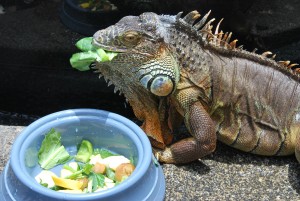 Iguanas themselves are strict vegetarians, which is rather unusual among lizards (most eat insects or other small animals).  For us, of course, it is fortunate that iguanas have no interest in eating butterflies!  We feed Charro healthy salads of vegetables and fruits.  Greeny leafy vegetables such as collard greens are especially good for him.   According to the Green Iguana Society website, although iguanas will eat almost anything you offer them, they should not be given any animal protein!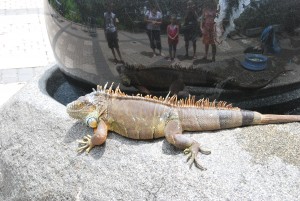 If you don't see Charro in the Butterfly Center when you visit, check outside by the Kugel Ball.  A number of docents have volunteered to take him out for a "sunbath" on sunny days.  Iguanas need the heat, as well as the UV A and B wavelengths provided by the sun's rays (or the simulated sunshine provided by a UV lamp), to get warm enough to move and to eat/digest food, as well as to manufacture vitamin D (just like humans).  We try to get Charro outside for at least half an hour, several times a week.  It's also a good way to let people see him up close!