Lucy is the most famous of the Australopithecine Clan – that's about a half dozen species all together, maybe more. The Clan was long-lived and successful…at least in Africa. They spread from the edge of the Sahara Desert in the north all the way to Cape Province near the southern tip of the continent.
Dig anywhere in this huge area and find bones between 5.8 and 2.5 million years old – and you'll find australopithecines.
But….Lucy's entire clan never, EVER got out of Africa.  That's weird. Lucy was surrounded by mammals that went globe-trotting. Big predators and even bigger herbivores traveled in and out of Africa, and then over Europe, Asia, North America – even South America.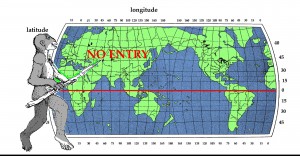 Check out our World Map for Lucy.  It shows the land and sea when ocean levels went down some 500 feet lower than today. That happened several times during the epoch of australopithecine evolution. With sea-levels down, there were dry land bridges many places – especially where Siberia connected to Alaska at the Bering Strait.
The map helps us analyze animal travelers….
Example of Globe-Trotter I: Rhinos Shaped like Hippos.
Here's an unlikely world-traveler – the short-legged hippo-rhinos. If you saw them alive, you might be fooled into thinking they were bona fide hippos. The body form was hippo-esque: rotund belly, wide hips, low-slung chest and rump. But they were genuine members of the rhino family, close kin of the Indian Rhino of today.
Hippo-rhinos ate grass just as Indian Rhinos do in the modern Indian ecosystem. But hippo-rhinos (also known as Teleocerines) weren't content to graze the meadows of the Brahmaputra. They went north and east and north and west. They invaded Europe and turned down into Africa. Hippo-rhinos must have chased Lucy when they were in bad moods.
Hippo-rhinos dared to cross the Bering land Bridge connecting Siberia to North America, and so they are the commonest rhino fossils in Nebraska, Wyoming and Texas.
Example of Globe-Trotter II: Hippos Shaped like Hippos.
Hippopotamuses today frolic in the rivers of Africa. Back in Lucy's day, hippos went much farther. They waddled north and west over Europe and made it to the Thames River in England. Going the other way, hippos trotted through Eurasia and invaded India.

Hippos failed to cross the Bering Land Bridge though – they never could follow hippo-rhinos to Texas. (Think about that – why?)
Meanwhile, as hippo-shaped rhinos and real hippos went thousands of miles across four or five continents, Lucy's relations stayed put in Africa.
Example of Globe-Trotter III: Saber-tooth Cats.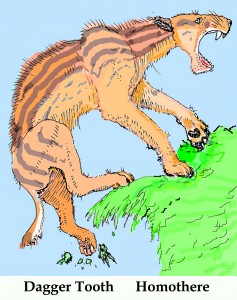 Big plant-eaters should have been followed by big meat-eaters. And they were.
Chasing Lucy in Africa were many kinds of saber-tooth cats. Semi-saber-tooths (Dinofelines,)  Sword-tooths (Smilodonts,) And dagger-tooths (homotheres).  All three kinds of saber-cats had evolutionary wanderlust. They spread over Europe and Asia, from Siberia to Indonesia.
Bering Land Bridge? No problem. All three saber-cats invaded North America. And one group – the sword-tooth smilodonts – just kept on going, down through Brazil and all the way to Argentina.
Wow.
What was wrong with our Lucy?
What sort of anti-australopithecine barrier was put up to keep all the Lucy-oids in Africa??