As you may have noticed from the anticipation, excitement, and general hullabaloo…we recently opened an exhibition chock full of Terra Cotta Warriors. And while museum people tend to find every exhibit that comes through our doors fascinating (part of the reason we take the leap from avid exhibition attendees to employees of said institutions) there are some things – King Tut, T. rex, and the Terra Cotta Warriors among them – that seem simply to have universal appeal.
Other exhibitions do well with particular demographics (history buffs loved Benjamin Franklin, engineers and art lovers packed in to see Leonardo da Vinci, kids couldn't get enough of the Dino Mummy) but some topics fascinate across the board. Whether from historical importance, sheer size or the stunning nature of a discovery – some artifacts from our collective past stand out, almost demanding that we come and experience them for ourselves.
Due to this, Terra Cotta Warriors: Guardians of China's First Emperorhas created a lot of conversation – both in our exhibition halls and online – and so we thought we'd address some of the common questions here – and do a little mythbusting of our own.
The Terra Cotta Warriors on display at HMNS are fake. FALSE.
The exhibition contains 17 authentic Terra Cotta figures, including 11 warrior figures – but also court officials, acrobats, musicians, servants and more. Its fascinating to see the incredible detail crafted into each individual warrior – as well as the ways in which various stations in society were represented in clay. The warriors are imposing, the generals are enormous – but the kneeling servant is child-size.
All of the artifacts on display were excavated from the necropolis of Qin Shi Huang, China's First Emperor. They were brought to Houston as part of an agreement with the Museum of the Terra Cotta Warriors and Horses of Qin Shi Huang, Peoples Republic of China.
The exhibition does contain a few replica figures, however these are labeled as such. The replicas were included to represent horses and carriages that have recently been excavated, and are too fragile to travel.
Some confusion may also have arisen due to the existence of the Forbidden Gardens, in Katy. This display recreates the Emperor's entire necropolis, in one-third size replica figures.
This exhibit has been to Houston before. FALSE…and TRUE.
We've heard this several times, but no one seemed to know where the rumor came from. The exhibition itself is newly created and has certainly never been to Houston before it opened here May 22. However, the misconception seems to have arisen from another exhibition that came though Houston, with Terra Cotta Warriors. Thank you to Laurie, one of our intrepid volunteer docents; Donna; one of our fabulous Museum bloggers; and David, a collections registrar from MFAH, for helping us track down the answer!
In 2000, the Museum of Fine Arts hosted The Golden Age of Chinese Archeology; Celebrated Discoveries from the People's Republic of China, an exhibition of Chinese art that did contain several authentic figures from the terra cotta army. Organized by the National Gallery of Art, the exhibition covered a large span of time – from the prehistoric era to the late 10th century A.D. – and surveyed a broad range of highlights of Chinese archaeology.
Terra Cotta Warriors: Guardians of China's First Emperor, currently on display at HMNS, is a totally new exhibition that contains the most Terra Cotta Warriors and other "Level One" artifacts ever allowed to travel outside of China at once – there are 11 warriors alone, alongside many other kinds of tomb figures, such as acrobats and musicians. It's also a much more specific look at the time in which the warriors were created – around the end of the 2nd century B.C. – the first time the lands today known as China were unified. A visit to this exhibition is the very best look at these marvels you could possibly get outside of Xi'an, China where the Warriors were discovered.
All of the Terra Cotta Warriors have been found and excavated. FALSE.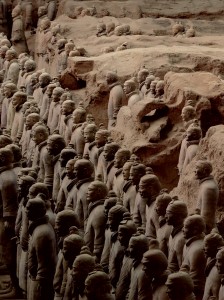 It is estimated that 7,000 or more warriors were created to accompany the Emperor to the afterlife – but only 1,000 have been fully excavated. Just recently, two decades after initial excavations ceased, Chinese authorities began new excavations in Xi'an, utilizing new technology that will preserve the warriors' original colors.
Though excavations continue in the necropolis, the actual tomb of Qin Shi Huang remains intact, due to the high levels of mercury found in the surrounding soil – suggesting that the "rivers of mercury" said to have flowed through the tomb were actually left there and likely stil make the area to toxic to excavate.
Have you heard a Terra Cotta myth that needs debunking? Leave it in the comments and we'll do our best to get to the bottom of it!