We recently received a question through our YouTube channel asking about Leonardo the Mummified Dinosaur. Our viewer wanted to know what evidence there is to support that Leonardo might have had a crop. We passed the question along to Dr. Bakker, our visiting curator of Paleontology.
"In most of the articles I've read about Leonardo mention is made of evidence of a crop. Can someone tell me the nature of that evidence? Is the evidence sufficient for a near certainty, a likelihood or only a possibility?"
A crop in today's birds is a specialized pouch, an enlargement of the gullet, where food can be stored before final swallowing. Sometimes there are glands; sometimes not. Usually there are muscular walls and partial partitions so the bird can control swallowing and regurgitation.
The throat skin in Leonardo is distended below the jaws in the region where a crop would be expected to be if Leo were a big turkey. The distention is globular, swollen side-to-side, and not flattened, and the skin shows only weak indications of folds and furrows. That's why everyone, from the very beginning, labeled this distention a "crop".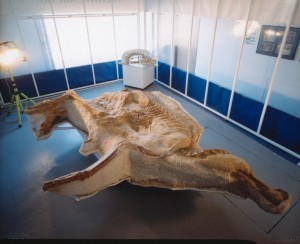 The hi-energy x-rays showed no internal structures here. And there were no small ferrous-iron specks of the sort seen in the stomach and intestinal zones, where masses of chewed vegetation were packed. A chip was removed from the crop, exposing some of the interior – there were no masses of vegetation. The distention was filled with very fine, very clean sand.
Next time we x-ray Leo, we will probe the interior of the "crop" with greater intensity.
Other duck-bill mummies do show a distention in this area but these specimens are flattened side-to-side so the distention appears more like a dew-lap than a crop. Leo is unique in showing so much three dimensional preservation of internal cavities.
One of many lingering mysteries in Leonardo….