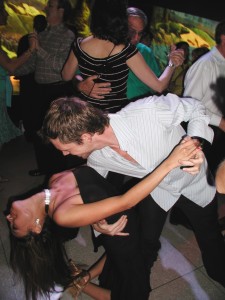 Pull those dancing shoes out of the closet, grab a partner and join the rush to the dance floor. Move your body to the rhythm of salsa, merengue, cumbia and much more. Feel the liveliness in the crowd as the beautiful party people of Houston dance under the dinosaurs and mingle among the gems.
Don't miss the captivating show put on by the 5-time winner of the Houston Press Music Awards' "Best Latin Band" category, Mango Punch. You are sure to have a sensational time as the band creates a high-energy dance floor. Mango Punch has performed at multiple prominent events including the pre-game show for Super Bowl XXXVIII.  
Put some zest into your Friday night with the smartest crowd in town. You can mix and mingle in the Audi Lounge with DJ Gracie Chavez and refreshing drinks from the cash bar beginning at 6 p.m. The fun en Español starts on the dance floor at 7 p.m.
This week: Mango Punch
July 24: Travel around the dance floor with Mambo Jazz Kings
July 31: Bring your best 80s groove with The Chromatics
August 7: Take a trip through the decades with Commercial Art