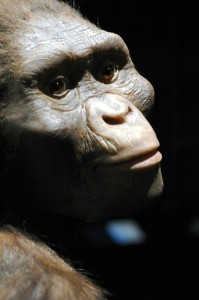 Lucy's Legacy, an exhibition featuring the world's most famous fossil, recently opened at Discovery Times Square Exposition in Times Square, New York. The exhibit will remain on display until October 25, 2009.
The Lucy exhibit has been an exciting catalyst for discovery, discussion, and debate within the scientific community. In this series of blogs, Dirk presents all sides of the controversy surrounding Lucy's existence and significance while skillfully separating fact from fiction with supporting evidence and research.
  
Do you enjoy debate about scientific theories or issues? If so, prepare yourself for a great read while perusing the following blogs by Dirk. In addition to his perspective and logic, Dirk also provides links to research and evidence that will leave you on the edge of your seat…and excited about evolution!
–In fide constans… Always loyal [Lucy's Legacy]     
–Neanderthal Controversy
–A Letter From Lucy: Making no bones about it. (Pun intended)
–Lucy loves Houston – and she's not leaving. Yet.
–If Humans came from monkeys, than why are monkeys still around?
–Evolution
 
 Neanderthals—most people know what they were, but do we know who they were or how they lived? Join Dirk as he discusses these unique people and their lifestyle.
–Neanderthal Controversy 
–Neanderthals on the move
–Neanderthals Speak Out
Why are genetics important in the development of humans? More than just appearance, genetics play a role in where we live and even how we survive. In the following blogs, Dirk explores where genetics has contributed to history and evolution. 
–Neanderthals on the move
–We are all mutants
–10,000 BC: The story behind the date
–A major step forward – 40,000 years ago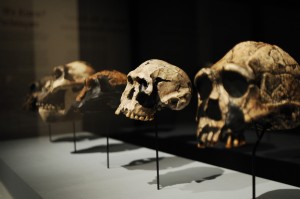 Sure, they're adorable and entertaining to observe but chimps and monkeys offer far more than that! They provide valuable information about human behavior and progress. Follow-up with these blogs and read Dirk's presentation of our connection to these magnificent animals.
–Chimps using tools: Archaeology's most fascinating discovery of 2007
–The Apple Doesn't Fall Too Far from the Tree
–Monkey business
–If Humans came from monkeys, than why are monkeys still around?
  
The study of fossilized remains (like Lucy and other hominids) offers an exciting opportunity to draw parallels on our own existence and physicality. What did they look like and how did they live? Dirk has explored these questions in the following blogs:
–Discovering behavior: a step-by-step process
–Reconstructing ancient hominid behavior
–Lucy's kitties
–Paleoanthropology: making the past come alive.
–Extinction doesn't mean failure
If you ask a fossil to share the secrets it holds, it will provide invaluable information and insight into the past. But how can we piece the puzzle together? Dirk explains the wisdom of what happens when fossils meet modern technology…and dating begins (pun intended).
–How do we know: dating techniques
–Meet Lucy, Australopithecus afarensis. (What's in a name?)
–Teeth Tell Tales
 
Want to find out more about Lucy's home, Ethiopia? Click below and discover a wealth of history, culture and tradition.
–Timkat, an Ethiopian Epiphany celebration
–The Ark of the Covenant and Aksum