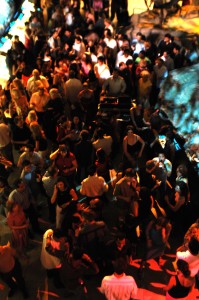 After taking a break for the July 4th holiday weekend, Mixers & Elixirs is back and ready for action. It's time to pull out your Union Jack, rock your John Lennon specs and get ready to party. Time warp back for a British Invasion – The Fab 5 are taking over Mixers & Elixirs this weekend.
What better way to start out a weekend then with one of the best tribute bands in Houston? Rock out to the sounds of the Rolling Stones, the Doors, The Beatles, and many more famous bands of the 60s. With over 19 years of experience together, The Fab 5 knows how to put on a good performance.
Enjoy the DJ and cash bar as you mix and mingle – starting at 6 p.m. in the Audi Lounge. Be ready to have a groovy time when the doors open at 7 p.m. for dancing under the dinosaurs!
This week: The Fab 5
July 17: Join the high-energy salsa night with Mango Punch
July 24:Travel around the dance floor with Mambo Jazz Kings
July 31: Don't miss The Chromatics