The Houston Museum of Natural Science was founded in 1909 – meaning that the curators of the Houston Museum of Natural Science have been collecting and preserving natural and cultural treasures for a hundred years now. For this yearlong series, our current curators have chosen one hundred exceptional objects from the Museum's immense storehouse of specimens and artifacts—one for each year of our history. Check back here frequently to learn more about this diverse selection of behind-the-scenes curiosities—we will post the image and description of a new object every few days.
This description is from Dirk, the museum's curator of anthropology. He's chosen a selection of objects that represent human cultures throughout time and around the world, that we'll be sharing here – and at 100.hmns.org – throughout the year.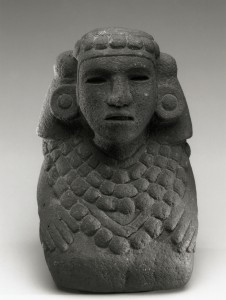 This stone figure is a silent witness to one of the best known Pre-Columbian civilizations, the Aztecs. Aztec history chronicles a meteoric rise of a band of hunters and gatherers who, in few centuries, went from a nomadic lifestyle to that of city-dwelling empire builders. While their ascent to power was phenomenal, their demise was cataclysmic. Only three years after meeting the Spanish for the first time, Aztec civilization ceased to exist as an independent political entity.
The statue depicts Chalchiutlicue, a goddess of water (literally her name means "She of the Jade Skirt.")
Explore thousands of years of Native American history in the John P. McGovern Hall of the Americas, a permanent exhibition at the Houston Museum of Natural Science.
You can see more images of this fascinating artifact – as well as the others we've posted so far this year – in the 100 Objects section at 100.hmns.org