The Houston Museum of Natural Science was founded in 1909 – meaning that the curators of the Houston Museum of Natural Science have been collecting and preserving natural and cultural treasures for a hundred years now. For this yearlong series, our current curators have chosen one hundred exceptional objects from the Museum's immense storehouse of specimens and artifacts—one for each year of our history. Check back here frequently to learn more about this diverse selection of behind-the-scenes curiosities—we will post the image and description of a new object every few days.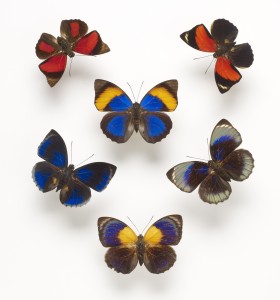 This description is from Nancy, the museum's director of the Cockrell Butterfly Center and curator of entomology. She's chosen a selection of objects that represent the rarest and most interesting insects in the Museum's collections,that we'll be sharing here – and at 100.hmns.org– throughout the year.
Brilliantly hued in primary colors, members of the genus Agrias are perhaps the most highly coveted butterflies by collectors around the world. Unfortunately, this popularity has given rise to an irresponsible proliferation of names. Thus while butterfly biologists recognize 5 to 9 species, over 200 "forms" – most of which are simply regional variants – have been named by collectors, mostly to drive up the price of a specimen (prices range from a few hundred to over $1000 per butterfly). We have over 200 individuals in our collection, not wild-caught but reared by breeders specifically for the "paper trade" (i.e., for collectors, who want perfect specimens.)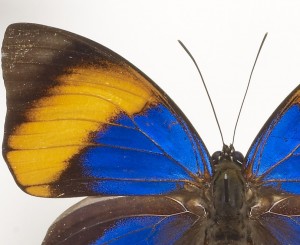 They certainly are beautiful butterflies. The upper surface may have patches of blue, red, green, or yellow, while the underside shows an elaborate design of swirling lines and dots.  Males have powder-puffs of "scent hairs" protruding from the top surface of the hind wing; these produce a seductive scent used in courtship. High-flying canopy butterflies, in the wild Agrias are most easily caught in traps baited with rotting fruit. Their early stages and host-plant affinities are, for the most part, not well known.

Learn more about butterflies and their relatives in a visit to the new Brown Hall of Entomology, a part of the Cockrell Butterfly Center– a living, walk-through rainforest at the Houston Museum of Natural Science.
You can see more images of this fascinating artifact – as well as the others we've posted so far this year – in the 100 Objects section at 100.hmns.org