The Houston Museum of Natural Science was founded in 1909 – meaning that the curators of the Houston Museum of Natural Science have been collecting and preserving natural and cultural treasures for a hundred years now. For this yearlong series, our current curators have chosen one hundred exceptional objects from the Museum's immense storehouse of specimens and artifacts—one for each year of our history. Check back here frequently to learn more about this diverse selection of behind-the-scenes curiosities—we will post the image and description of a new object every few days.
This description is from Nancy, the museum's director of the Cockrell Butterfly Center and curator of entomology. She's chosen a selection of objects that represent the rarest and most interesting insects in the Museum's collections,that we'll be sharing here – and at 100.hmns.org– throughout the year.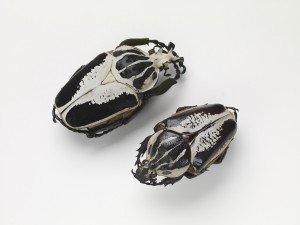 With some specimens of the Goliathus regius weighing in at ¼ of a pound, these chunky beetles from equatorial Africa are the heaviest insects in the world.  Males are larger than females (some reaching over 4 inches in length) and are more dramatically colored.  Females may get up to 3 inches long, and lack the same striking color patterns as the males, being mostly brown.  In the wild, the adult beetles mainly eat tree sap and ripe fruit.  Little is known about the larval stage, but the larvae appear to need some protein. In captivity they have been successfully reared on commercial dog and cat food!
 
There are five species in the Goliathusgenus, all from Africa.  They are members of the scarab beetle subfamily Cetoniinae, or flower scarabs, species of which are found throughout the world, including here in Texas.  Most Cetoniine scarabs are much smaller than the goliath beetles and are often found in flowers, feeding on pollen and nectar.  Some mimic bumblebees, but are harmless.
Learn more about beetles and their relatives in a visit to the new Brown Hall of Entomology, a part of the Cockrell Butterfly Center– a living, walk-through rainforest at the Houston Museum of Natural Science.
You can see more images of this fascinating artifact – as well as the others we've posted so far this year – in the 100 Objects section at 100.hmns.org