Thats right. Those giant, tusked behemoths could one day soon walk among us again. Maybe I should start at the beginning.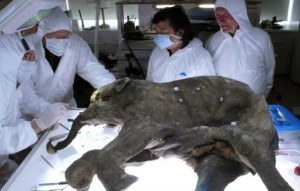 © Photo credit: Florent Herry
In 2007, a reindeer breeder in the Yamal Peninsula of Siberia named Yuri Khudi discovered a one month old baby woolly mammoth. The baby mammoth, dubbed Lyuba, is roughly 40,000 years old and almost perfectly preserved (missing only her fur and toenails.) Lyuba either suffocated by sinking in mud or drowned in a muddy river.
Large amounts of mud were found in her mouth, trunk and trachea, suggesting that she asphyxiated. This sealed out oxygen and microbes that normally break down soft tissue and helped keep Lyuba perserved. Her body then dehydrated and shrunk to about half of her normal size. Lyuba now stands about waist high on the average person. The permafrost of Siberia then covered her and kept her in pristine condition until she was uncovered 40,000 years later.
Interested? So was National Geographic. They created a documentary about Lyula, the best-preserved baby mammoth ever discovered. Waking the Baby Mammoth premieres this Sunday, April 26, at 8 p.m. Central time, and follows Yuri's amazing find and the fascinating process of discovery as scientists work to unravel Lyula's mysteries.  (Check out the video preview below)They investigate the body of the mammoth, learning how she briefly lived and theorizing how she died. The documentary includes CGI graphics that help show how Lyuba and her family might have looked as they survived the harsh conditions of Siberia during the ice age.
Some other things you might not know about wooly mammoths:
The word "mammoth" is thought to have originated from an old Vogul word for "earth."
Woolly Mammoths began dying out about 10,000 years ago, around the end of the ice age. A small population of dwarfed mammoths survived in Alaska until roughly 3,700 years ago; however, the majority died out long before then.
The first largely intact frozen mammoth carcass was discovered in 1799 in Siberia.
One of the longest mammoth tusks ever found was 16 feet long and weighed more than 200 pounds.
Mammoths are very closely related to the Asian Elephant (they share 99.4 percent of their DNA.) It is possible to take the sperm from a mammoth and impregnant the egg of an elephant, and use a female elephant to incubate. This would give birth to a mammoth/elephant hybrid.
From there, it would be possible to impregnate the hybrid to create an offspring that was even more closely related to the ancient mammoths. In a similar process, you could also take a woolly mammoth egg and clone it to create  a woolly mammoth.
The woolly mammoth genome was the first genome to be reconstructed from an extinct animal It has 4.7 billion base pairs and is the largest known mammal genome.