The Houston Museum of Natural Science was founded in 1909 – meaning that the curators of the Houston Museum of Natural Science have been collecting and preserving natural and cultural treasures for a hundred years now. For this yearlong series, our current curators have chosen one hundred exceptional objects from the Museum's immense storehouse of specimens and artifacts—one for each year of our history. Check back here frequently to learn more about this diverse selection of behind-the-scenes curiosities—we will post the image and description of a new object every few days.
This description is from Tina, the museum's associate curator of malacology. She has chosen a selection of objects that represent the most fascinating shells and animals in the Museum's collections, that we'll be sharing here – and on hmns.org – throughout the year.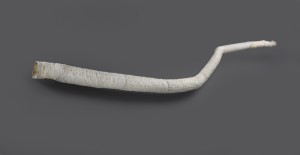 While this shell of a marine worm seems uninspiring, in actuality it represents one of the most remarkable discoveries of the late 20th century.  Deep Sea Thermal Vents are one of the most remarkable habitats for marine life, and their existence has given scientists whole new areas for research into life sciences. 
The existence of such unusual life based on temperatures and chemicals in the deep waters of our oceans never before thought possible, proves that there are still many discoveries to be made in the marine environments of our world. 
This specimen of the Family Teredinidae is Kuphus giganteum and measures 130 cm in length and is commonly referred to as a "worm tube" shell.
Learn more! Dive into the Malacology Hall, a permanent exhibition at the Houston Museum of Natural Science.
You can see larger and more detailed images of this rare specimen – as well as the others we've posted so far this year – in the photo gallery on hmns.org.