The Houston Museum of Natural Science was founded in 1909 – meaning that the curators of the Houston Museum of Natural Science have been collecting and preserving natural and cultural treasures for a hundred years now. For this yearlong series, our current curators have chosen one hundred exceptional objects from the Museum's immense storehouse of specimens and artifacts—one for each year of our history. Check back here frequently to learn more about this diverse selection of behind-the-scenes curiosities—we will post the image and description of a new object every few days.
This description is from Lisa Rebori, the Museum's Vice President of Collections. She's chosen a selection of objects that represent our Museum's history, and our collections of historical technologies, that we'll be sharing here – and on hmns.org – throughout the year.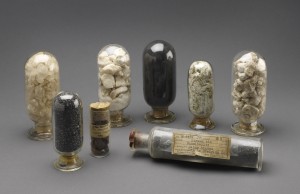 Right to Left:
1.  Kalinite, Esmeralda Co., Nevada, HMNS #1317
2.  Mercury, Knoxville, California, HMNS #285
3.  Cassiterite, Tin samples from Squaw Canyon, HMNS #782
4.  Soda-niter, White Plains, Nevada, HMNS #1248
5.  Mercury in soot, Reddington Mine, Knoxville, California, HMNS #285
6.  Chrysotile, Bajenova, Urals, U.S.S.R.
7.  Borax Crystals, New Boston, Nevada, HMNS #1251
8. (Laying down) "Stream tin", Cassiterite, Malay Islands, Collected from Kepong Dredging, HMNS
     #791 (Milsaps no. M5478)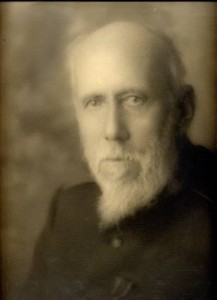 John E.T. Milsaps 
One of the earliest collections acquired by the Museum belonged to John E.T. Milsaps, a native Houstonian.  As an adult, Milsaps joined the Salvation Army and eventually was given oversight for "all territories west of the Mississippi."  In this capacity, he traveled widely, collecting wherever he went, and then sent his collection back to Houston. 
These mineral specimens are from his original collection and are representative of the storage and display techniques at that time.  The minerals were secured in the glass vials or bottles with a cork and wax seal.  This allowed the minerals to be handled, but prevented them from being contaminated and assured that they could be moved and set up for display easily.
When the Museum was first started in the early 1900s it was called the Houston Public Museum. The label you see here includes the original catalogue number M (for "Milsaps")-5478 and the note of a second catalogue number "791."  Beginning in 1970, in an effort to re-order the mineral collection, it was decided to catalogue all of the specimens a second time, starting the record making and numbering process all over again.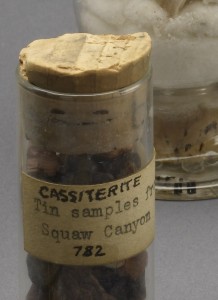 J.E.T. Milsaps contributed much to the citizens of Houston.  Throughout most of his life he not only collected objects and specimens, but bought many books.  He gifted these anonymously to the City of Houston.  Within the Public Library, his collection was known as the 'Circle M Collection.'  The inventories were marked with a circle around the letter M.
Check back soon for more of the 100 most compelling objects from the museum's collections – we'll be posting the series throughout 2009 as we celebrate a centennial of science in Houston.