The Houston Museum of Natural Science was founded in 1909 – meaning that the curators of the Houston Museum of Natural Science have been collecting and preserving natural and cultural treasures for a hundred years now. For this yearlong series, our current curators have chosen one hundred exceptional objects from the Museum's immense storehouse of specimens and artifacts—one for each year of our history. Check back here frequently to learn more about this diverse selection of behind-the-scenes curiosities—we will post the image and description of a new object every few days.
This description is from Nancy, the museum's director of the Cockrell Butterfly Center and curator of entomology. She's chosen a selection of objects that represent the rarest and most interesting insects in the Museum's collections, that we'll be sharing here – and on hmns.org – throughout the year.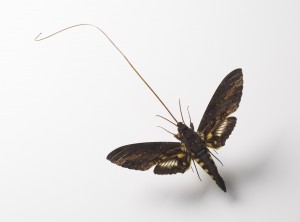 This large sphinx moth (Cocytius antaeus)  has an extremely long proboscis (tongue) – here seen fully extended as it would be if the moth were sipping nectar from the bottom of a very long-tubed flower. Important pollinators, some sphinx moths have very specific relationships with the plants they pollinate.  The giant sphinx, for example, is the only known pollinator of the rare and delicate ghost orchid of Florida's swamps. 
Ranging from our southern states southward into the Amazon basin, this moth is the New World equivalent of the famous Darwin's sphinx moth, Xanthopan morganii. As the story goes, when Darwin encountered the very long-spurred Angraecum sesquipedale orchid in Madagascar, he predicted that one day, someone would discover a sphinx moth with a proboscis of the same length as the 12-14 inch nectar spur. He was proven right 40 years after his death when X. morganii with its 13-inch proboscis was discovered.
If you find the sphinx moth really cool, come down to the Cockrell Butterfly Center and see a special art exhibit that the students of Stephen F. Austin State University created.
Learn more about butterflies and their relatives in a visit to the new Brown Hall of Entomology, a part of the Cockrell Butterfly Center– a living, walk-through rainforest at the Houston Museum of Natural Science.
You can see more images of this fascinating artifact – as well as the others we've posted so far this year – in the photo gallery on hmns.org.